So here is the nerd in me...I'm a total
Hunger Games
freak. I have been wanting to read this book and when I finally got around to it I read it in less then a week. I haven't been so captured by book in a long time...the last one I can even think of is
Water For Elephants
(which that to was turned into a movie). I love the way Suzanne Collins writes in the tone of Katniss and her attention to details. Even though through the first book and now the second one I have to often remind myself this is a teen novel. The love story that is intertwined in the book plays an important role but sometimes is over powered and sometimes I wished she focused on the darkness of the Capitol...With saying that these books are dark and I was actually quite surprise how bloody it is (yes I knew what the book was about but honestly you feel the power of the Hunger Games through her writing). Anyway...I love Peeta and I think Josh Hutcherson did a great job portraying this love stricken, charismatic guy. I even must say Hutcherson is so awkwardly cute. Sorry Gale but I have a super soft spot for Peeta. There were times during the book where I had to hold back my tears since I was on the train and let me tell you I definitely cried during the movie. I was really impressed by the costume for Effie and Elizabeth Banks portrayal of her. Before the movie I wasn't sure how that was going to work out. But to my surprise Banks was spot on with her character. I even loved the costume design for Effie...it really helped that Collins gave such detail explanation on her characters look.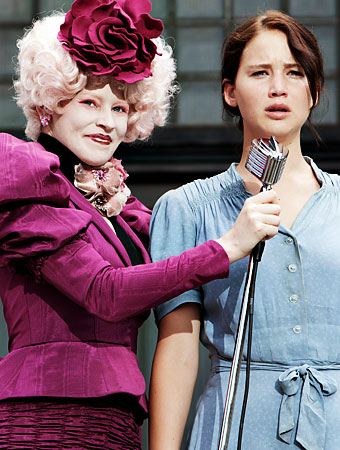 Effie Trinket and Katniss Everdeem...photo from Instyle.com
I was a bit disappointed in the chariot scene since in the book it's SOOOOO grand but to me in the movie it fell so flat.
Instyle.com
has up a gallery of designer sketches of Katniss Firedress...they should have went with one of them....Just saying.
Overall the movie was good, not as great as the book. If they put all the details from the book into the movie it would have to have been more the 2 hours and 22 minutes for sure.
PS The nerd in me really wants a
replica Hunger Games Training shirt
! SO BADASS! Also loving the China Glazer
Hunger Games nail polish
.
Are you into the whole Hunger Game fandemonium?