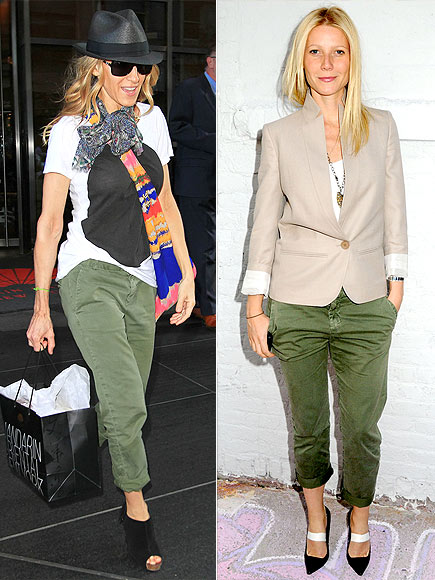 This fall season it is all about the Military style. Already some celebrities can't wait to pull on their military green. Sarah Jessica Parker and Gwyenth Paltrow both have on their military green pants.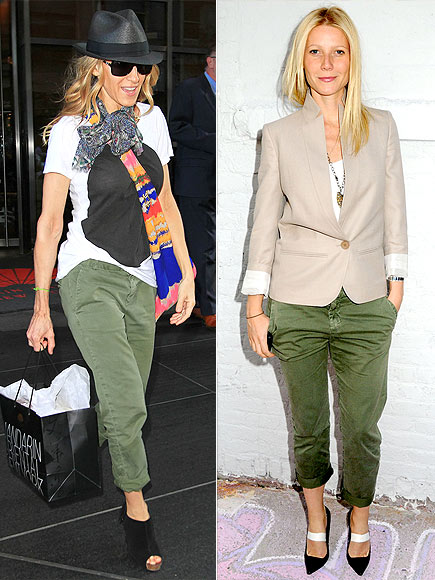 photo from people.com

Parker is seen in Current/Elliot "Captain trousers and Paltrow pairs her pants with a Stella McCarthy blazer. Besides the pants, these ladies have another thing in common. They pull the look off right. They give two different looks to this trend.
You can get Paltrow's dressy military style by pairing up your military green pants with a cream/white blazer and black pumps.
This look is good for any time of day it can easily go from day to night. It's perfect for the office but also perfect for after work cocktails. This look is easy to pull off most of what you need is probably already in your closet: a white t-shirt, a cream blazer, and black pumps. You can jazz up your pumps by wearing something that is studded or jeweled like the Bebe shoe, $140. If you don't like the wear heels the perfect and ever so popular alternative is flats. The ASOS Libby, $37, flats are the perfect alternative with it's white bow to match the cream blazer. The bow also helps spice up the flats.

While Paltrow's look can go from day to night Parker's is more of a casual look. Her look is great for grabbing lunch with friends and doing some shopping. You can get her look my pairing up a graphic t-shirt with some military pants.
Try black lace up booties with a heel like both the Forever21 booties shown in outfits one and two. They give it a very military look with a famine flare. Graphic t-shirts help give the look a casual coolness to the outfit. A great graphic tee are band shirts. I'm sure everyone has at least a couple of band shirts lying around in their closets waiting to be worn. If not stores like Forever21, Delias, and Alloy are here to help you out. If you stick with a black and white graphic shirt why not make the outfit pop with a little bit of color like Parker did with her tribal print bag. Use a scarf like the Forever21 smocked rainbow scarf, $8.00. Or try a tribal print bag like the Fred Flare boho multicolor tote, $26. Wear a shirt with a bit of color like the Delia's Joanne Jet tee, $15.
I'm obsessed with this look. I love everything from the pants to the boots. The best thing about this trend is that you can dress it up or down.
What do you think of their looks? Whose outfit do you like more Sarah Jessica Parker's or Gwenthy Paltrow's?