Vanessa Hudgens was at the
Neutrogena Wave for a Change
event in Calif. looking beach perfect. She was seen in a metallic print dress by Missioni, Alisa and Tiger Lily layered necklace, and blush Jimmy Choo Sandals. Even her hair was beach perfection.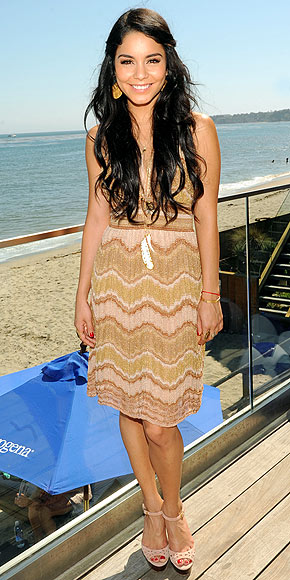 This outfit is undeniably California girl and who wouldn't want to look as good as her going to the beach. Hudgens goes beyound the typical summer prints like florals but stick with the nude/neutral color but has a pop to it by having the metallic color in it.
You can steal her look for less by choosing a print dress, try something along the lines of a tribal print. Below I put together a couple of outfit sets:
Steal the Look for Less: Venessa Hudgens by poetofsorts featuring Charlotte Russe dresses
Outfit from Left to Right: 1. Tribal Woven Dress: $24 - canada.forever21.com; Vinatge Gold Brown Necklace:$41 - instilo.com; Juicy Couture Giana Espadrille Thong Sandal: $87 - neimanmarcus.com; 2. Torn by Ronny Kobo Lou Tribal Row Dress: $183 - shopbop.com; Leaf Bead Cluster Necklace: $19 - dorothyperkins.com; Forever21 Sandals: $19 - dorothyperkins.com; 3. Tribal Print Tube Challis Dress: $14 - charlotterusse.com; Robyn Rhodes Katie Rutilated Drop with Leaf Necklace: $68 - couturecandy.com; Forever21 Wedges: $25 - forever21.com; 4. Billabong Dress: $30 - pacsun.com; Falling Leaves Necklace: $17 - alloy.com; Forever21 White Sandals: $7.50 - forever21.com; 5. GUESS by Marciano Noemi Sweater Knit Dress: $128 - marciano.com; Wooden Leaf TassleNecklace: $50 - hannahzakari.co.uk; Blush Peep Toe Shoes: $61 - dorothyperkins.com
You can try different dress lengths: short to long. You can also try different styles such as tanks, tube tops, and komono. Depending on your body shape and bust size you can decide which tops and lengths are perfect for you. With these dress I stuck with different shades of brown and black. I mostly also stuck with tribal prints. For a different approvoch to her dress I choose the komono style, Torn by Ronny Kobo, beacuse it is elegant but also perfect beach wear. Also the print of the dress helps it stand out. This dress is more on the expensive side ($183) but sometimes it's nice to have one pricey piece and pair it with less expensive pieces. With the Ronny Kobo dress it is paired up with a leaf beaded cluster necklace from Dorthy Perkins for $19 and Forever21 sandal pumps for $25.
Like Hudgens necklace I stuck with gold leafs. I like necklaces that also have extra charms to them this way you don't have to worry about layering but you can also choose to layer these necklaces as well.
The shoes you can do a wide variety from wedges to heels to flats to blush to white to tan. You have to stick with something that is comfortable to you and that will go with the dress. Wedges and maxi dresses go hand in hand together. And what's better then a maxi dress that cost $14 (from Charlotte Russe) and wedge sling backs that cost $25 (from Forever21). If you don't like to wear heels try simple sandals that come in a neutral or white color like the Forever21 white sandals that are on sale for $7.50.
Make sure to have fun with this look. Tease your hair a little and pin back the front. Wear some nude lipgloss and your ready for some sand, sun, and water!
What do you guys think of her style? What are your favorite things to wear to the beach?