Nicole Richie lately has been rocking out some great outfits. Richie, below, is seen in her rocker chic look with a Topshop dress and leather motorcycle jacket at the Carrera Sunglass rooftop party in LA.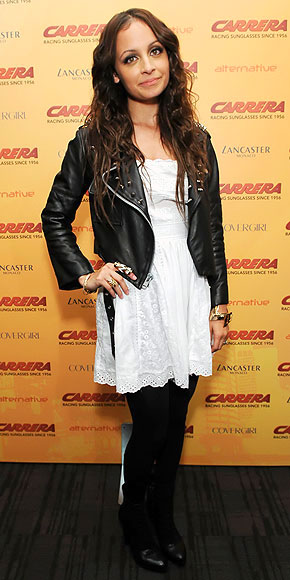 Stealing this look is easy as throwing on something girly and adding a leather jacket with some great boots...O it is that easy!
Try a lace dress or tunic top and pair it with a studded leather or faux studded leather motorcycle jacket and motorcycle boots. This gives you more variety of a lace dress then just the girly side of it. I love the idea of adding harder tones with softer tones. Motorcycle boots are the perfect touch. Try a flat bootie to give your outfit an edge.
If you want to play up the girly side a bit more try pairing your top and jacket with clogs or peep toe lace ups like in the first outfit. The Forever21 studded clogs are a nice finishing touch to this outfit because it has a heel and it has a harder look to it.
Use accessories to pull your look together. Use chunky rings and bracelets.
Use chunky rings and bracelets. The more studs, blacks, gold, and silver the better.
What do you guys think of Nicole Richie's style?