We've seen the maxi skirt with sweaters, t-shirts, tank-tops, crop tops, and bandeau tops. Celebrities like Jessica Alba, Diana Agron, and Kim Kardashian have been spotted out and about in their maxi skirt paired with a button down top.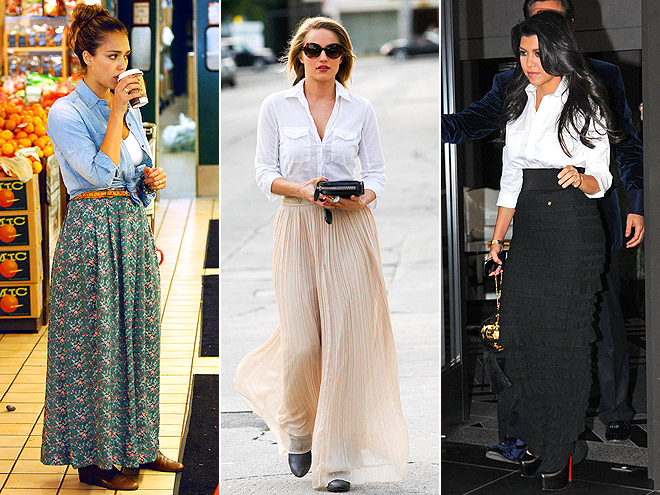 With a button down top you can express different looks: the casual look, work appropriate, and going out. Like button downs maxi skirts can be worn in different ways to express different looks. Here's a mini guide on dressing maxi skirts:
Casual Dressing:
Start with a top that is casual looking like a chambray, denim or even a plaid top (if doing a basic maxi skirt). To pull off the Jessica Alba look make sure it's a top that you can tie in the front. Sometimes maxi skirts can make us look smaller then we really all so to give you some height but still keep it casual looking pair the look up with a pair of wedge booties like the ones from H&M pictured above. Keep your accessories just as effortless as you look do a basic nude satchel like the
ASOS leather bag
($90).
Business Casual:
Maxi skirts are perfect to take to the office since they are quite modest...if you aren't doing a sheer maxi (make sure of that!). Pair your maxi up with a simple button down top but if you're to scared of looking to Amish (sorry Amish) take your look to new heights with a printed button down like the H&M polka dotted top. If you are doing darker top and button brighten your look my introducing playful colors. Don't go to bright since you don't want to shock the look to much but try pastel colors and light bright pieces like the
Zara
Two Tone Platform ($90).
Date Night:
A sheer maxi skirt is exactly the little peek-a-boo show you can give your date. It's just enough sex appeal without giving it all away. Play with soft colors like a pink pastel skirt like the one from
Threadsence
($32). Keep your button down just as light and playful, mix in lace and pastels like the Yesstyle top. Keep your accessories nude to not over bear the whole look. This look is also great for Valentines Day!
Okay so they aren't the first gals to wear button downs with maxi skirts I did rock my chambray shirt with a printed maxi skirt back in August (see the post
here
):
But seeing these ladies rocking the look helped encourage that it's a great way to mix up a maxi skirt and get more mileage out of your button downs.
What do you think about this look?