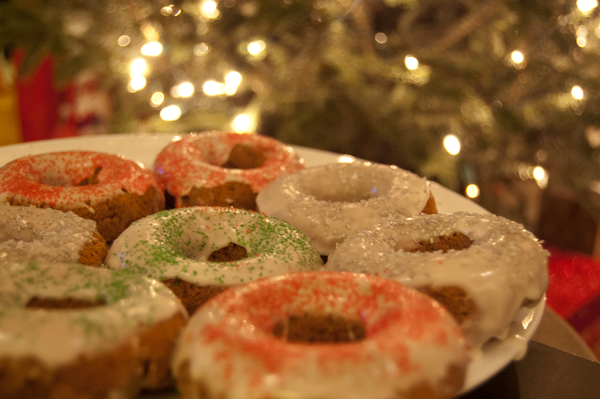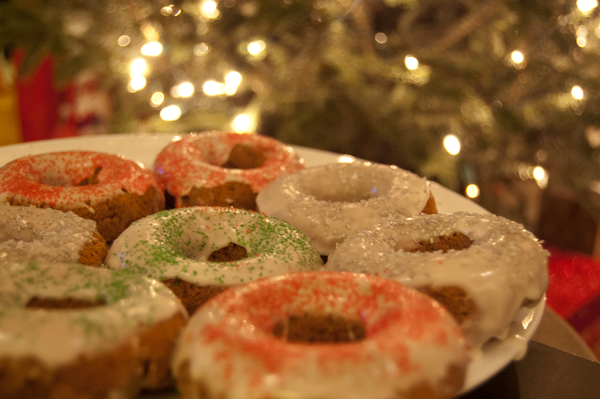 My parents are coming over to our apartment this Christmas morning to have breakfast and open gifts. Then we'll head on over to my aunts house for Christmas dinner with the whole family. This year I wanted to do something a little special for Christmas breakfast for us and my parents, since it's my husband and I's first Christmas as Mr. & Mrs. I decided to make donuts but instead of making a fuss on Christmas morning I made them Christmas Eve since I knew that the donuts we made for Halloween kept up well the day after. I wanted something with some Christmas spirit and found a Gingerbread Donut recipe on pinterest from
A Kitchen Addiction
. My dad is a picky eater so I knew the vanilla glaze on these would be perfect for him but I found another recipe from
A Pinch of Yum
that had gingerbread donuts with a maple glaze. So I decided to do a batch with a vanilla glaze and a batch with a maple glaze.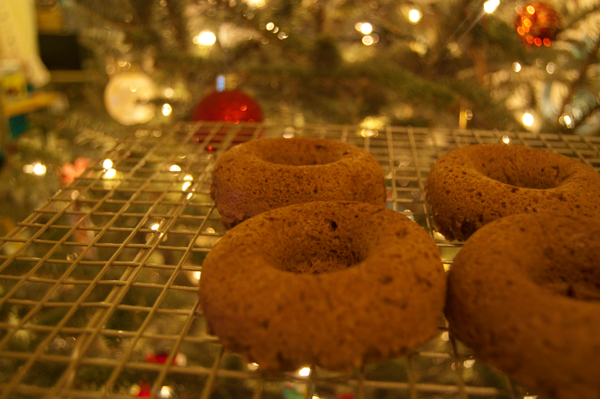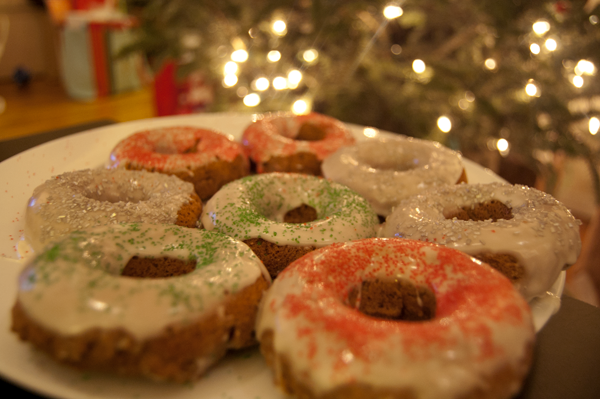 Gingerbread Donuts with Vanilla Gaze
recipe from A Kitchen Addiction
1 C white whole wheat flour

1 tsp baking powder

¼ tsp baking soda

1 tsp cinnamon

½ tsp ginger

¼ tsp allspice

⅛ tsp cloves

¼ tsp salt

¼ C brown sugar

1 egg

3 tbsp molasses

⅓ C milk

1½ tsp vanilla extract

3 tbsp butter, melted
1 C confectioner's sugar

1 tbsp hot water

½ tbsp + ½ tsp milk

¼ tsp vanilla extract
Preheat oven to 350. Lightly spray donut pan with non-stick cooking spray.

In a large bowl, whisk together flour, baking powder, baking soda, cinnamon, ginger, allspice, cloves, salt, and brown sugar.

In a small bowl, whisk together egg, molasses, vanilla extract, milk, and butter. Add wet ingredients to dry ingredients and stir until just combined.

Transfer batter to a pastry bag or a plastic bag with a corner cut off. Pipe batter into donut pan filling each cavity about ⅔ full.

Bake for 8 minutes or until edges just start to turn golden brown. Transfer to a wire rack to cool.

While donuts are cooling, stir together all ingredients for the frosting. You may need to add up to another ½ teaspoon of milk to reach desired consistency. Dip tops of donuts into glaze and return to wire rack. Top with sprinkles and allow glaze to harden before serving.

Best served same day but leftovers can be stored in an airtight container.
Maple Glaze recipe from A Pinch of Yum
2 tablespoons butter

¼ cup brown sugar

2 tablespoons maple syrup

2 tablespoons milk




½ cup powdered sugar





For the glaze, melt 2 tablespoons butter with ¼ cup brown sugar in a small saucepan over medium heat. Bring to a boil and boil for about 2 minutes. Add maple syrup and 1 tablespoon milk and bring back to a boil. Add powdered sugar, using the last tablespoon of milk to help thin out the frosting if needed. Keep over low heat (otherwise it will start to crystallize) and dunk each mini donut into the frosting. Frosting should set almost immediately.
Next time I make these I'm going to go a little more heavy on the spices like I do with our gingerbread cookies. They were lacking the gingerbreadness that I love. The dough itself was perfect and moist.
I hope everyone has a very Merry Christmas! I will be taken some time off from the blog to spend the Holiday with extended family and my Husband. I will see you all right before the New Year! Don't fret you can also follow me on instagram (@fashionistanygirl) to see all my Holiday celebrations!