Holiday make-up is just as important as your Holiday outfits. This season
Flickable
wants you to put your best lips forward! Flickable is a brand new luxe lipgloss company that is fun, flirty, and cruelty free. Their lipgloss taste just as great as they look! Hate sticky lipgloss? Well you're in luck, Flickable is a non-sticky lipgloss, that will leave your lips shiny and kissable. ONE lucky reader will win Flickable's Pop Bouquet which includes all of their lipgloss colors:
Better Off Red
,
Do Ya Pink I'm Sexy
,
Citrus How We Do It,
Toffee Talk,
and
Fight for Your White to Party
. These colors will take you throughout your busy Holiday schedule as well as your daily life.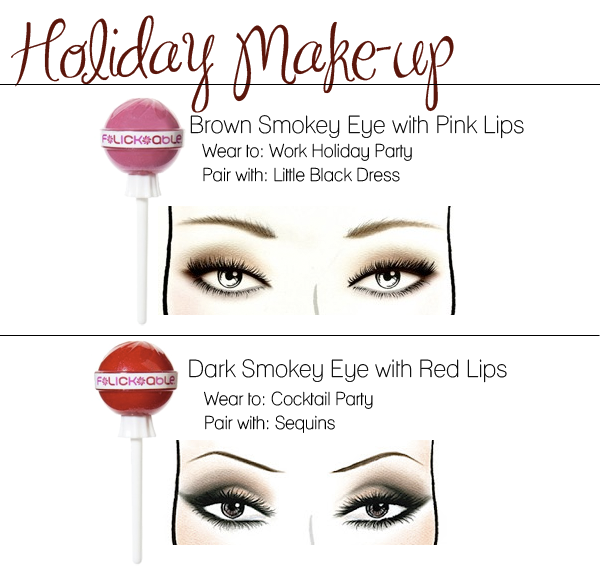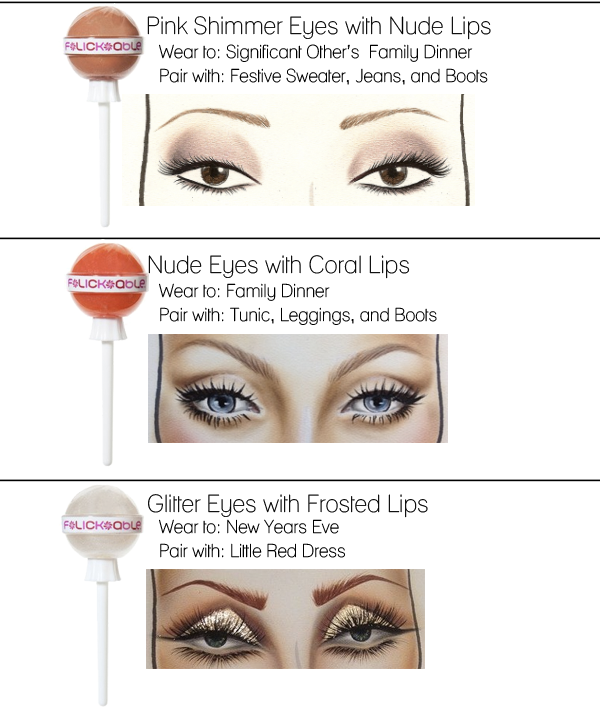 1. Brown Smokey Eyes with Flickable Do Ya Pink I'm Sexy. Smokey eyes are sexy but can be to dramatic for a work function event. That's when neutral tone smokey eyes step in. This eyeshadow is perfectly dramatic without being overtly bold. Add pink lips for a punch of color. Pair with your favorite LBD (little black dress) and pumps.
2. Dark Smokey Eyes with Flickable Better off Red. Dark Smokey Eyes go hand and hand with red lips. This is a bold look to pull off and is better off used for a cocktail party or an outside work function. To add to the drama pair with a sequins dress.
3. Pink Shimmer Eyes with Flickable Toffee Talk. Will you be spending Christmas with your significant other's family? Don't look to over done, do a pink shimmer eye and a nude lip. Show off your fun side and pair it up with a festive sweater, jeans, and boots.
4. Nude Eyes with Flickable Citrus How We Do It. Keeping your Christmas casual also means keeping your make-up casual. Do a nude eye and dramatic lashes. Make your eyes wider by adding white eyeliner to the bottom eyeline. Do a bright lip to counteract the nude eye. Just like your make-up keep your outfit simple: tunic, leggings, and boots.
5. Glitter Eyes with Flickable Fight for Your White to Party. For New Years Eve go bold with your make-up. Do a glitter eye and a pouty frosty lip. Do a bright color dress like a little red dress to add a splash of color.
Enter to win a Flickable Pop Bouquet! ONE lucky reader will win a Flickable Pop Bouquet. No purchase necessary. Contest will end Wednesday 17th at Midnight.