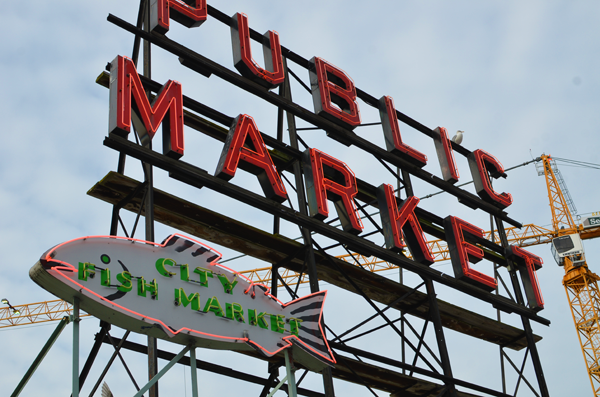 DAY 1
Breakfast:
Moore Coffee
1930 2nd Ave. Seattle, WA
This is another must stop for all coffee lovers...and waffles enthusiast. They have unique mocha flavors like Mexican Mocha and Nutella Mocha, plus they do the most impressive milk art I have ever seen. Hungry? Get one of their delicious waffles. The husband and I love Nutella so he got the Nutella Banana, while I got just got the Nutella Waffle. What is so special about this? Well it's not like they just blob on Nutella, o no. It's almost like a Nutella syrup that is drizzled on. Not overly sweet for breakfast.
Explore:
Seattle's Waterfront
After breakfast head down to Seattle's Waterfront. This is where you'll find beautiful views of West Seattle, Seattle's Great Wheel, and catch the ferries to nearby islands and towns. You'll also find the aquarium down here.
Pike Place Market
Head to the Pike Place Market to take in some local crafts and food. It's a total bummer that we didn't have a kitchen and couldn't try any of the fresh fish at the market. Make sure to find Starbuck's first ever location. They even still have their original logo up. While down in the area stop by The Pike Brewery for lunch!
Lunch:
The Pike Brewery
1415 1st Ave Seattle, WA
pikebrewing.com
Whenever the husband and I go away somewhere we always want to try and find some local brews. And it's doesn't get any more local then The Pike Brewery. They brew their own beers right there, you can even take a tour of their facility. If you are a beer lover like us try their flights. We did their seasonal flight and was not disappointed. We ordered some nachos with pulled pork to go along with it. After the flight I ended up ordering their pumpkin beer called Harlot's Harvest and the husband got their amber ale.
Explore:
Ballard
Take a 15 minute cab ride up to the neighborhood of Ballard. This is a small sweet neighborhood north of Downtown. Don't be fooled by Ballard's quiet town feel. There are plenty of small shops, cafes, bars and restaurants to check out. Honestly, I could easily move to Ballard. It reminds me of Brooklyn in it's own way. Two of my favorite stores were Lucca Great Finds (5332 Ballard Ave NW, Seattle WA) and Camelion Design (5330 Ballard Ave NW, Seattle WA). After taking a stroll through Ballard stop by The Walrus and the Carpenter for an early dinner.
Dinner:
The Walrus and the Carpenter
4739 Ballard Ave NW, Seattle WA
www.thewalrusbar.com
Make sure to get to The Walrus and the Carpenter early, esp. on the weekends. They open at 4pm, so the husband and I got there right before they opened, and thank god we did. By the time it was 4pm there was a line down the hall for this place. It's a small cute little space with yummy seafood bites. My husband really loved their clams and enjoyed their oysters. As I'm not a raw seafood person I opted for the Fried Oysters and we shared the cured pork loin. Also you must order the bread and butter. I know that sounds bizarre, but the butter is so good. It's whipped to creamy light perfection.
Coffee & Desserts
:
Starbucks Reserve Roastery & Tasting
1124 Pike St. Seattle, WA
roastery.starbucks.com
Enjoy some after dinner coffee back in Downtown. The Starbucks Reserve is unlike any other Starbucks you have been too. It's big and beautiful, with two different ordering bars. Here you can see them roast their Reserve coffee beans, taste flights of their reserve coffee or try special drinks that are only found at the Reserve. I had tried the Autumn Latte the first time we went and then the second day I tried the Shakerato Bianco. Yes, we went twice. I could have went more to be honest.
Drinks and Late Snacks:
McMenamins Six Arms
300 E. Pike Street Seattle, WA
Another local brewery found in Downtown Seattle, nestled on a corner of Pike and Melrose. This place is two stories, big space and good crowd. The best is that it's not overly loud and a great place to grab some brews and cocktails. Since the husband and I had an early dinner we wanted something to snack on and this place had truffle fries and wings, which we dug into without hesitation.
DAY 2
Breakfast:
OddeFellows Cafe + Bar
1525 10th Ave Seattle, WA
www.oddfellowscafe.com
By far this was my favorite place we ate at. Brunch was beyond amazing. Their coffee was smooth and endless. If you stop here you MUST get the beignets. You get 5 small freshly made beignets COVERED in powered sugar with a side of strawberry jam. The jam taste just like the inside of a jelly doughnut but better. We both got the biscuit sandwich and ate ourselves into a food coma. The biscuit was so fresh and the scrambled eggs were light and fluffy. We got there early and by the time we left (10:30ish am) there was a bit of a wait for a table. So I recommend getting their early to start your day off right! And FULL.
Explore:
The Space Needle
www.spaceneedle.com
Okay totally touristy but it's something I think you should go and take in. You get a beautiful view of the city. Unfortunately Saturday morning was a bit hazy, and started to drizzle but I still appreciated going. I feel like if this is the first time to the city, this is a tourist must. Sort of like how people come to NYC and go to the Empire State Building. Right next store is the
Chihuly Garden and Glass
, if you so choose to check it out.
Pacific Place Mall
Okay so the real reason we ended up at Pacific Place was to stop by
Trophy Cupcakes
(the small kisko is downstairs in the main mall entrance. And if you love cupcakes like us you should go checkout this place. We got the Apple Caramel Cupcake and it was almost too pretty too eat!) But since we don't have any Nordstorms in NYC (plus it's a Seattle based company) I dragged the husband in. I'm so in love with Nordstorm and so jealous of those who have local stores. They had every brand that I could ever want in one location, Topshop, Madewell, Miss Selfridge, etc. I could have spent all afternoon there browsing the racks. But I felt bad enough dragging the husband in that I only spent an hour or so oogling over their goods.
Lunch:
Lunchbox Laboratory
1253 Thomas St Seattle, WA
lunchboxlaboratory.com
If you are looking for a fun funky place...this is it. Lunchbox Laboratory serves up some yummy burger options and shakes (including adult shakes). After you chow down on some tater tots and burgers head upstairs where you'll find some old school arcade games.
Explore:
Downtown Seattle
There are so many little shops, bars, and coffee places to stop by on both East Pike and Pine Streets. Checkout
Melrose Market
for more local crafts and eats. It was hard not to buy everything from
Butter Home
. There's another cupcake place which we didn't stop into but now I'm kicking myself for,
Cupcake Royale
. Stop into Quinn's Pub for a cold one.
Dinner:
Re:Public
429 Westlake Ave N Seattle, WA
republicseattle.com
One thing I noticed about Seattle was the amazing happy hours and happy hour food specials. That are DAILY! If your into sharing small plates get to Re:Public early to take part in their happy hour menu from 4pm to 6pm. Their sliders and fries (with the alioli trio) were banging. But the husband and I also split the Wild Boar Bolognese. Which was the 3rd best thing he ate in Seattle (he was there longer then me since he was out there for work).
Drinks and Late Snacks:
1420 12th Ave Seattle, WA
I love me a good margarita. So when I come across one as delicious as theirs...I need to have at least two. Barrio is a cute Mexican Restaurant off of East Pike street. First off all you are greeted by two huge wooden doors, then you walk into a gorgeous space with lit candles everywhere. Their Ghost Chili Margarita is one of the best margs that I have ever had. The Ghost Chili wasn't over powering but had a nice hinted kick to it. Barrio also has a late night menu as well from apps to desserts. Don't pass on the guca and chips!
48 hours for me flew by. There is so much to see, do, and eat in Seattle. I didn't have one bad meal while there! Everyone we met was super friendly, and there were so many pups! I love dog friendly cities. I absolutely want to go back...and 2 hours from Portland or just 2 hours from Vancouver!