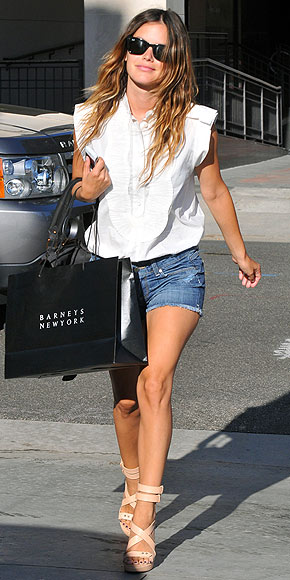 Summer is almost coming to a close. At least here in the city it sure does feel like it then again it's been 4 straight days of rain and being in the 60's/70's. Looking at Fall 2010 lines and ads really makes me crave for the cooler weather but when pictures of people in shorts and dresses pop up it makes me wish summer could last forever. Rachel Bilson's laid back summer look is one of those looks that makes me wish summer could last forever. She is seen shopping in Hollywood in strappy Rag & Bone platform sandals, demin shorts, and a cut off frilly t-shirt.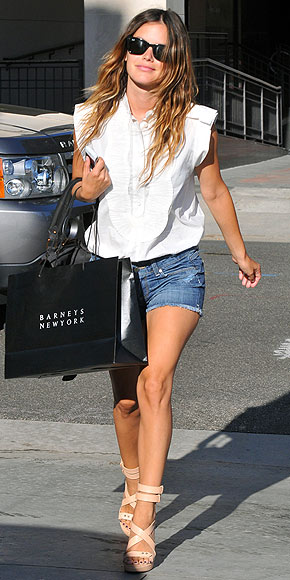 photo from people.com
I love demin cut off shorts. They are the basic summer wear. Bilson takes this look to a whole other level by pairing her look up with the Rag & Bones platform sandals. She took her look from casual to casual chic, which is perfect for those summer days of shopping.
You can steal Bilson's look by pairing up your basic summer esstenials with strappy platform sandals.
Steal the look for less by poetofsorts featuring heel sandals
Outfits from left to right: 1. Slub Knit Pocket Tank: $16 - canada.forever21.com; Demin Rip & Repair Demin Shorties: $40 - ae.com; Lipsy Ribbon Tie Heeled Sandals: $84 - asos.com; BLNQ Future Prophecies Sunglasses: $35 - urbanoutfitters.com; 2. James Perse Henley Cotton T-shirt: $75 - net-a-porter.com; Forever21 Shorts: $17 - forever21.com; Paris Hilton Jada: $95 - heels.com; Cheap Monday Round Glasses: $4.99 - urbanoutfitters.com; 3. J.Crew Ruffles Tank: $40 - jcrew.com; Breakwall Shorts: $40 - hollisterco.com; Carvela Anchor Platform Sandals: $105 - johnlewis.com; Matte Plastic Sunglasses: $6.99 - urbanoutfitters.com
Pair your cut off demin shorts with a basic tank top or cut off t-shirt. Throw on some blush strappy platform heels and ta-da you have a very chic and casual look.
For sunglasses that look like Ray-Bans but aren't and don't have the price tag of Ray-Bans check out Urban Outfitters collection of sunglasses. They have sunglasses that look similar to the traditional Ray-Bans but are much cheaper and come in all sorts of different colors.
I say wear shorts till the very end of summer! I know will try and wear my summer clothes until it gets way to cold out, even though today I already broke out a sweater that I bought from H&M (mid-summer for $10!).
What do you think of Rachel Bilson's look?