Bring out your inner hippie by wearing a crochet dress. Liv Tyler, Kate Bosworth, and Miley Cyrus were all seen rocking their crochet dresses.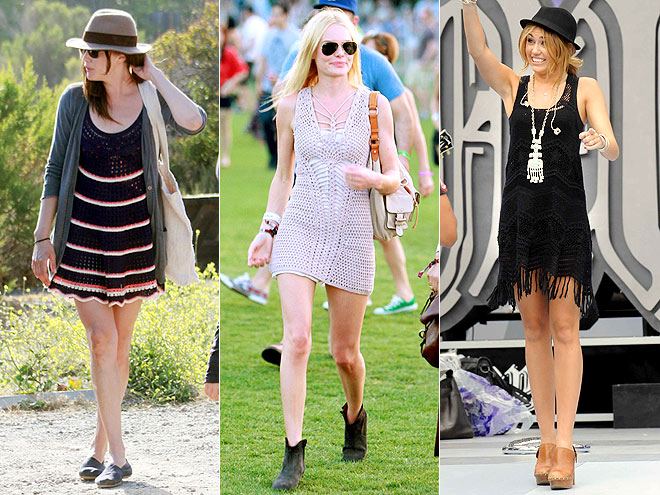 Photos from People.com
All three ladies look hippie chic. I give the most props to Miley Cyrus' black crochet dress and clogs. I love Liv Tyler and Kate Bosworth looks becuase they look so casual but they still keep it chic.

Crochet dresses are perfect festival clothing plus they are great for the end of the summer weather. They are light enough for the day but as it gets cooler at night they are still have a thickness to it keep you warm. They are also great because you can dress them down with some sneakers and sandals or dress them up a little with wedges and clogs.


CROCHET DRESS by poetofsorts featuring Dorothy Perkins dresses
The Karen Miller dress (the second dress from the left) is a little steep at $199 but I couldn't help but post this. It's a beautiful white crochet dress that goes perfectly with some cowboy boots like the Forever21 Cowboy boots ($33) and avaitor sunglasses (Topshop Leather Trim Aviators: $30). Also it's nice sometimes to add some less expensive pieces with more expensive pieces.

For a fun casual look like Tyler and Bosworth try pairing your dress up with some casual accessories like sneakers, sunglasses, and a hat. The crochet lace dress by Pyramid Collection (last dress on the right $38) is the perfect crochet dress to go out to brunch with friends in. You can dress it down with some sneakers like the Jeffrey Campbell Catalina Flats ($30 Urban Outfitters) and a hat like the bow accent sun hat by Yesstyle.com ($45).
Of course I found a crochet dess that was abosuletly stunning but it's $320 from
Bona Drag
.
It's so beautiful. I love the open back and the train of the dress. It would make for a very beautiful beach wedding dress.
What do guys think of crochet dresses?