Sometimes basic looks are the best looks. There's nothing like looking simple but chic and I think Jessica Alba pulled it off real well.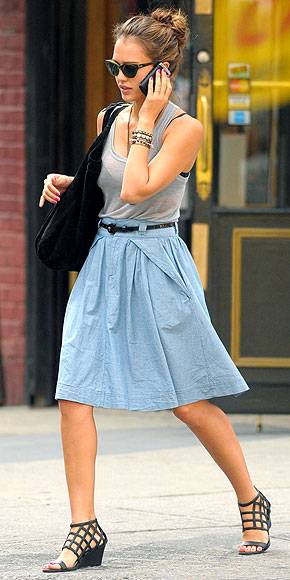 Alba is seen in a basic tank top, a knee length chambray skirt, and cage sandals. She also looks stellar in her car framed sunglasses.
Below are some ideas on how to steal Jessica Alba's look for less:
American Apparel has some great knee length skirts like the Gingham Stretch A-Line Skirt ($36). Try full circle knee length skirts. For something a little different try a demin full circle skirt like the Spoon Jean Chambray Skirt from Alloy.com ($9.99) and Dr. Demin Chambary Full Skirt from ASOS ($44). Pair your knee length skirt with a basic tank top, which many of us have in our draws already. Or try pairing it with a sheer tank top like the Unisex See Thru Tank from American Apparel ($24). Try a pump caged heel for a more sophisticated basic look. If high heels aren't your thing try flat caged sandals like the Snake Print Cage Sandal from gojane.com ($19) or the Forever21 caged sandal ($22). If you want a pop of color try pastel color caged sandals. I really love the ASOS Swirl Strappy Cage Shoe from ASOS ($37) for a pop of color. It's the perfect swirl of pastel and nude colors. And for the final touch: cat eye sunglasses. Urban Outfitters is the perfect place to pick up some cat eye shades . Their prices on sunglasses seem to range in the $16.
This look is the perfect day look. It's good for looking chic while meeting friends for lunch or doing your chores.
What do you think of Jessica Alba's look here?