Kelly Osbourn is seen rocking a leopard print dress with a leather jacket at Nylon and Express' Demin Issue Party in West Hollywood.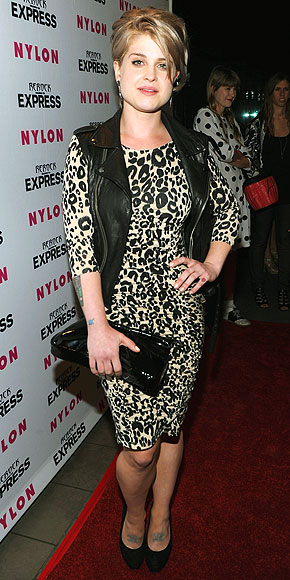 Osborne pairs her look with some simple black pumps and a black clutch. Her look here is femine with a rockers edge. I'm loving the leopard print dress paired with the leather vest. Leather jackets and vest are a great accessory to toughen up a look.
Here are a couple of looks for a great price:
I love the femine look of all these leopard print dresses. They all help shape the body and each one has a different leopard print design. The Motel Leopard Print Bandeau Dress from ASOS; second from the left ($51) is my favorite because I love the cut of the dress which is like a sweet heart top. I love the color and the big leopard prints. The Biker Style Vest from Forever21 ($40) that it's paired with really helps give it that biker girl feel but with the ASOS suede pumps it brings back that feminity.
Pairing these dresses up with leather vest also help scuplt the body. For a looser fit try a dress that pulls away from the body a little bit like the ASOS Shirred Leopard Printed Cotton Bandeau Beach Dress, third dress from the left, ($34). Also, try pairing it up with a looser fitting vest, try a satin or fabric vest instead like the Forever21 Satin Lapel Extended Vest ($25). For a lighter color try a white vest that has some kind of accents like studs.
Pumps are a great way to bring the look together. Pumps keep the look soft while the vest gives it the edge.
Of course you can always pair your look up with some motorcycle boots or booties with a heel. This look is all about having fun. Try different things and find one that works for you.
What do you think of Kelly Osbourn's look?