I'm so excited to share my fall essentials with you all today! My blogger friend Simone of
Fashion Runs the World
put together a fun blogger collaboration where a couple of us are sharing our fall must haves! Check out my list of not only fashion related fall must haves but beauty products as well!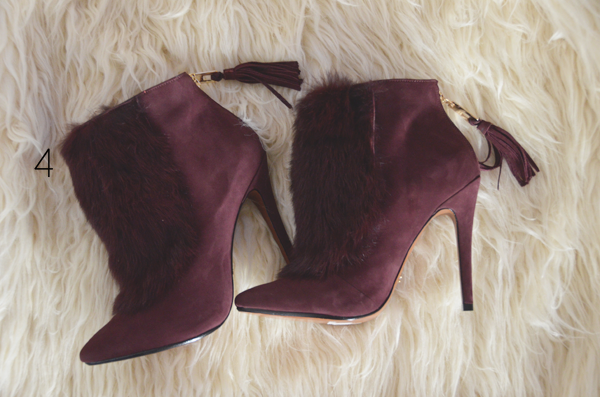 all pictures taken by me
1. Fall Perfume.
It's time to switch out the flowery summer sents for more muskier ones. The one I'm really digging this season is the
Elizabeth and James White
. This sent has a light musk smell to it. It's feminine, but not overly sweet.
2. Dark Lips
. I'm a sucker for reds every time of year but especially during the fall/winter months. Red lips are just so classic and look great paired up with all black looks. Burgundy and plums are also my favorites for the fall. Some of my favorite colors are:
M.A.C Ruby Woo
,
NARS Train Bleu
, and NO 7 Lip Crayon in Berry. These are in constant rotation.
3. Fall Nail Polish Colors
. Much like lipsticks fall nail polish is all about the deep dark colors: burgundy and shades of greys. Every season has it colors, spring and summer is all about the lights and brights while fall is about the burgundy and deep rich colors and winter you have the holidays so its the dark greens, reds, and even metallics like golds and silvers. My favorite fall colors this season are Essie
Recessionista
, L'Oreal
Greycian Goddess
, and Prevail NYC Doll.
4. Statement Bootie
. Every woman needs a statement shoe no matter what season it is. Fall is the season of boots and there is nothing like a statement boot. This can range from prints to colors or something funky like my Schutz booties. I found these at Burlington for $50! These statement boots can make a impact when pulled together with simple fall look like a turtle neck dress or jeans and tee.
5. Wide Brim Hats.
I'm a sucker for hats. I have a ever growing wide brim hat collection. My two new additions are from Urban Outfitters and Aldo. I just love how they top off a look. Plus there is something so classically fall about them.
6. Plaid Scarf.
This season it;s really all about the plaid scarves. I found my infinity scarf from Aldo but definitely digging the ones from Target that a lot of people have been rocking. I love you don't need to spend a lot on this trend since it could be found everywhere!
7. Graphic Sweaters.
It seems like I have a growing graphic sweater collection. I love that they jazz up a weekend look or can be worn for a casual Friday in the office. Pair it with a blazer, skinny jeans, and heels for a daytime look at the office. I can't get enough of both of my Artizia and Aerospastle sweater.
Don't forget to check out Katie from Lucy & Camilla, Diane from Style Context and Simone from Fashion Runs the World for their fall picks!
What is on your fall must have list?