Drew Barrymore looks summer perfect in her floral summer dress and red pumps taken down in the West Village last week.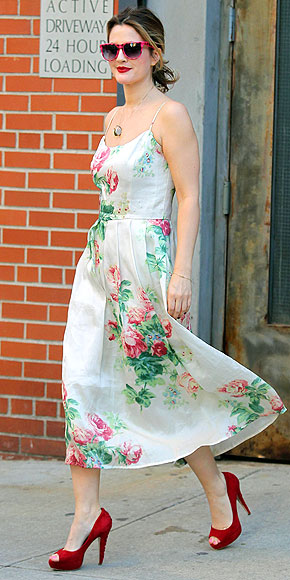 This outfit is the perfect summer look especially now in the city (where we hit a record high of 102 degrees yesterday). I love how classy this floral dress is and I love how the red pumps really pop!
You can steal this look my wearing a long floral maxi dress or a pastel colored maxi dress and making it pop with some bright shoes and funky shades. Here are some ideas that I have for stealing this look:
To switch up the long dress look you can do a pastel floral dress with some fun red shoes. Try wedges or flats to change up the look. If you want to tone down the pop of color try a pastel maxi dress with pastel matching clogs.
For sunglasses try pairing up a floral dress with a different patterned sunglasses like in with the first outfit. It pairs up the Topshop Floral Cup Dress with Pink Leopard Print sunglasses from Hot Topic. You can also match your shades with your shoes like the Red Ray-Bans with the Pelle Moda Wrigley Red Suede shoes from heels.com.
I love maxi dresses and I think even if you don't think you'll look good in one you should try one on anyway. You'll be surprised what they can do for you. But if they aren't your thing short dresses are always in style!