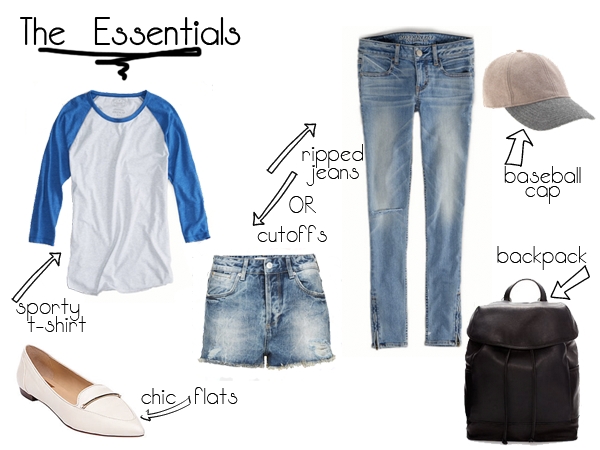 I've always been a bit of a tomboy. I grew up around my boy cousins which meant running around and playing a little rougher then most girls. Also I'm a totally daddy's girl. So to no surprise when it comes to fashion as much as I love the girly things I also tend to love the boyish styles as well. This is why I'm totally digging the boyish chic trend that has been going on and is transitioning into the fall.

I've been scouting out the right baseball style tees for awhile, until I came across the American Eagle top from the guys section. Yes they have a female version of this top but a. the material was to thin b. the guys was a few bucks cheaper. Plus, the sloucher the top the more of a tomboy feel you can get. That doesn't mean get a size to big for your body, just make sure it hangs lose. With slouchy tops fitted jeans (especially ones that are destroyed) or cut offs work well. They keep you from looking like your swimming in your clothes. Of course you need a girly edge to your look so turn to a pair chic flats, ones that are pointed are even better, will keep the outfit looking feminine. Have fun with accessories and play with baseball caps and a backpack to finish of the look.
I played with this look myself for a casual Saturday look. After scoring a couple of gems: the American Eagle Tee, LF Store hat, and the Dolce Vita shoes I knew I had the perfect tomboy look. Then to top off the whole look I got a personalized necklace from
O Necklace
with my blog name on it. I love that it's feminine with the script font but plays well into the boyish look. Plus it's one of those necklaces that you can easily layer.
Top: American Eagle (from the guys section) | Shorts: American Eagle | Shoes: Dolce Vita | Hat: LF Store |
Necklace: c/o O Necklace | Bag: Marc By Marc Jacobs
photos taken by Brian Cavanaugh
What do you think about the tomboy style? Would you wear it?