photos from Style.com
1. Lord & Taylor | 2. French Connection | 3. Topshop | 4. Urban Outfitters
One of the pluses of holding out on trying new trends or jumping on a trend wagon right away is getting these trends on sale. This the perfect time of the season to get the summer sales from sample sales to the end-of-season in-store/online sales. I've been holding out on the Asian inspired spring trend myself, even though I have my fair share of kimono style sleeved shirts. This inspiration was all designer's runways to stores like Zara (which is currently having their summer sale, my top picks are
here
and
here
). This trend can be easy to pull of with just a couple of basics or fun accessories.
Fashion is all about trying to mix things up. A great pair of floral printed silk pants like the French Connection ones can be both dressed down or up. One may think these pants wouldn't be able to work into a work wear look...wrong. A basic t-shirt, a blazer, and a pair of pumps can take these from bed to work. Throw on some red lipstick for a dramatic after work cocktail look. To have a little more ease to this look and to throw a little more inspiration into it, a great pair of chunky wooden heels is all you need. Replace a basic tee with a sold print high low top, go for neutral colors.
I actually played around with this look myself for a casual Friday outfit. It was probably one of the most comfortable outfits I have ever worn to work. PJ style pants plus chunky heels, what more could I want.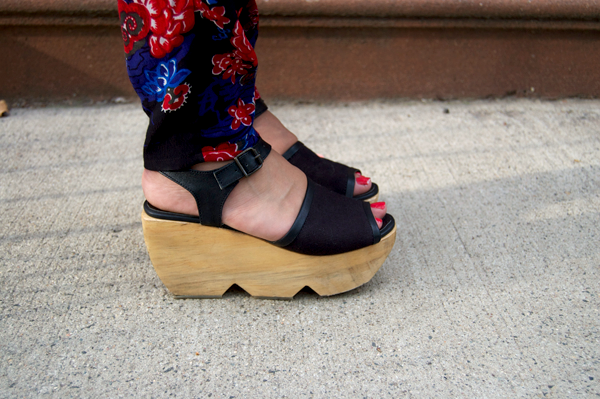 Shirt: Zara | Pants: French Connections | Shoes: Urban Outfitters | Bag: Marc By Marc Jacobs | Sunglasses: Tobi.com | Bracelet: Forever21
pictures taken by Brian Cavanaugh
What do you think of the the Asian inspired trend?