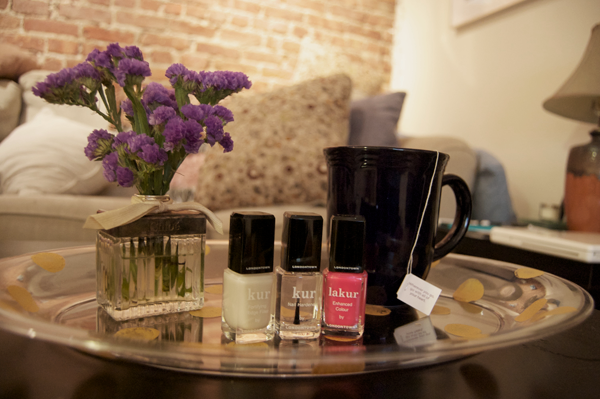 When it comes to my nail care routine I'm pretty basic: base coat, nail polish, and top coat. I tend to do at home manis at least once a week. It's important to have good looking nails, even though typically my nails chip by day one.
Reason #1
why I splurge on good nail polish instead of going to a nail salon. Which brings me to this post...it's nice to finally find a nail polish that didn't chip on the first day!
Thanks to
Londontown USA
they created
magic
an organic and vegan friendly nail care products that are not only good for your nails but actually last. Taking out five harsh chemicals from their "
Kur
" treatments mean less smell and more nutrients. Let me tell you, my nails seriously need all the help they can get. They are short, not very strong, and I have noticed that the tips of my nails they have imperfections which make it impossible to get an even coat of nail polish, even when I use a base coats.
To get my perfect
Londontown USA
mani I started with the
Kur Ridge Fille
r to smooth and coat my ridges in the tip of my nail. Then to ensure that my nails get stronger and to create a bond for the polish to stay longer-- a layer of the
Nail Hardener
went on top. Of course, for the color I went with the most vibrant pink called
Weekend Cheers
. Yes, I might be a nail polish hoarder, but theres not much of a variety in my collection. You'll find lots of pastels, brights, and shades of pinks. What can I say I love adding pops of color where ever I can. So this beauty was the perfect addition.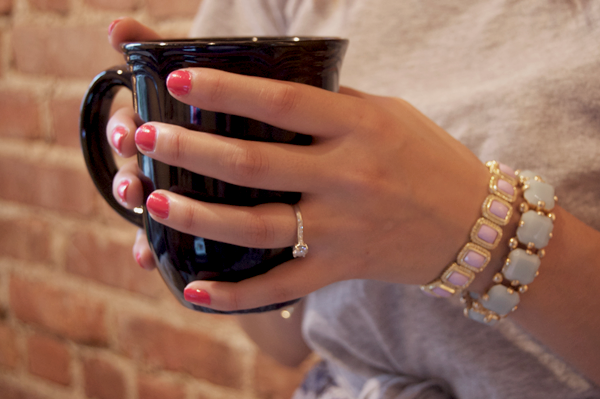 All three products were amazingly smooth. The best thing of all-- I didn't have to hear my fiance complain about the smell. You'd think after four years of living together he'd be use to it. Londontown USA is definitely my new nail addiction.
What is your nail care routine?