I know this doesn't have much to do with fashion but since I have to travel on the train I like to occupy my time with reading, it makes the commute go faster and its easier to avoid the crazies next to you on the train. Plus who knows maybe those who read this blog are looking for some books to read or are gathering up their summer reads for the beach/pool side.
I had finished Lauren Conrad's book, "Sweet Little Lies," within a week like I said I would have. It was a quick read and was pretty much like her first book "LA Candy." There are a lot of similarities I must say between the character Madison and her real life ex best friend
Heidi
. If you are looking for some quick, easy, and fun summer reads then these are two good books to take with you out on the beach or to the pool.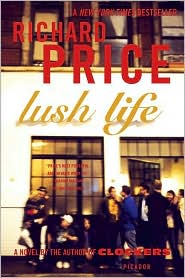 Once I was done with Conrad's books I bought Richard Price's book "Lush Life." Which is totally opposite of Conrad's book. Price's book was heartbreaking and intense. It's a story about the lower
eastside
around Houston street in New York and it revolves around a guy who gets killed in a mugging. The story
intertwines
the life of the father (Billy Marcus) that lost his son, the guy, (Eric Cash) who was with the guy (Ike Marcus) who was shot dead, the cops (Matty Clark and
Yolonda
) on the case, and the kid (
Tristan
) who actually pulled the trigger. At times you can actually feel your heart strings being pulled. The fathers reaction to his sons death is heartbreaking yet
relatable
, especially if you ever lost a loved one. Though at some points I did feel like the book was a little long and he could have cut some of it out but I understand that it wasn't just filing it was a lead up but to me some of the lead ups weren't as climaxed as I wished they were. Also at the beginning of the book some of the lingo was hard to read because some of it was cop lingo that I just didn't understand. But overall it was a good book. It wasn't so much a mystery book like a lot of the reviews I read said it was, sure the first part of the book had you guessing but the whole book wasn't a total mystery. If you're into books or even movies that revolve around New York and New York Police officers I would recommend this. I had picked it up
because
it did revolve around this one section of New York City.
Now I'm taking another total different direction with my next book. I already decided that my
next read will be Kelly
Cutrone's
book, "If You Have to Cry, Go Outside: And Other Things Your Mother Never Told You." I love her. I haven't gotten the chance to see her new show on Bravo but I loved her on "The Hills" and "The City." I think she's such a strong and positive woman. Sure at times she can come off as a bitch but at least she's honest and in your face about it. Plus, she's a bitch because she really seems like she wants her employees to do well, to work hard. At least I noticed that with Whitney Port that when she's a bitch to her it's not because she's just being a bitch but she wants Port to do the best she can and she has to be honest with her. The bad thing is that sometimes people
misconceive
being
brutally
honest when you need to be as being a bitch or a dick. In the fashion industry or in the arts you have to be able to take criticism. The art world is cut throat. You have to be strong and you have to be able to take that
criticism
and now how to give it back when needed. I think
Cutrone
is a great mentor and I can not wait to pick this book up. It amazes me that she started Peoples Revolution when she was in her 20s. That's so amazing. I would love to have her as my mentor!