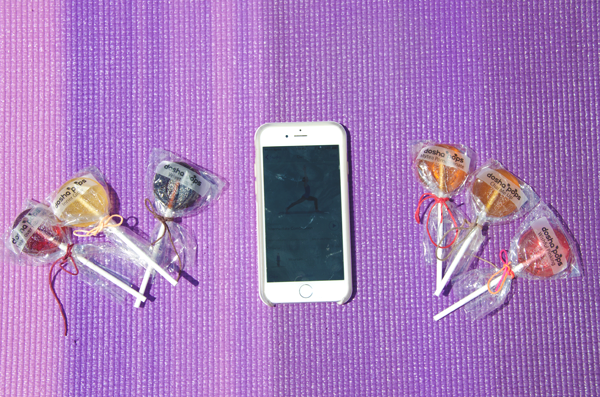 I have a major sweet tooth. Some people go for chocolate but for me I'm all about the sweet and sour. Typically after tearing into a bag of Sour Patch Kids the guilt starts to set in...and so do the cavities. Finally I found something that satisfies my sweet tooth that I don't have to feel guilty about.
Dosha Pops
aren't your ordinary lollipops, they promote a healthy balanced lifestyle by using the finest ingredients and having it all centered around herbal tea. They have unique names, like Velvet Rope, that match their distinct ingredients. The Velvet Rope in particular is made of non-GMO pure cane sugar, organic chicory roots tea, chicory extract and cream of tartar. They have six flavors for you to try but don't worry if you can't decide on a flavor, let the Dosha Test help you out. The Dosha Test is just a few simple questions about yourself to figure out your Doshic energy. This test for me was spot on, I got Vata: "If you are a Vata, you are always on on-the-go and full of energy" YES "Open to new experience, you live a life that is fast-paced and exciting" YES "Your secret lies in creative schedule and being a pure bred powerhouse doesn't hurt either." DUH "When Vatas are out of balance they become anxious, worrisome overwhelmed and stressed." Okay this is getting scary! What is even more scary is that they suggest foods that are sweet, salty, or sour for Vatas.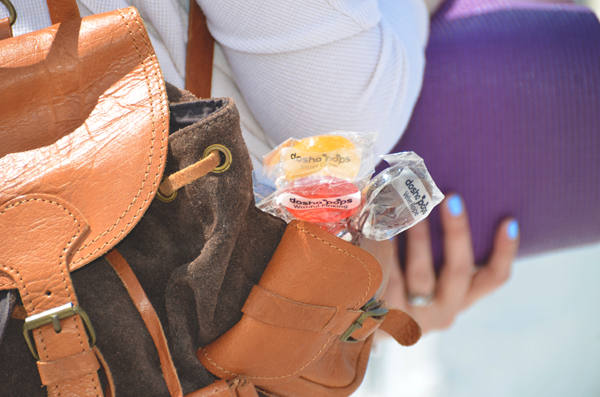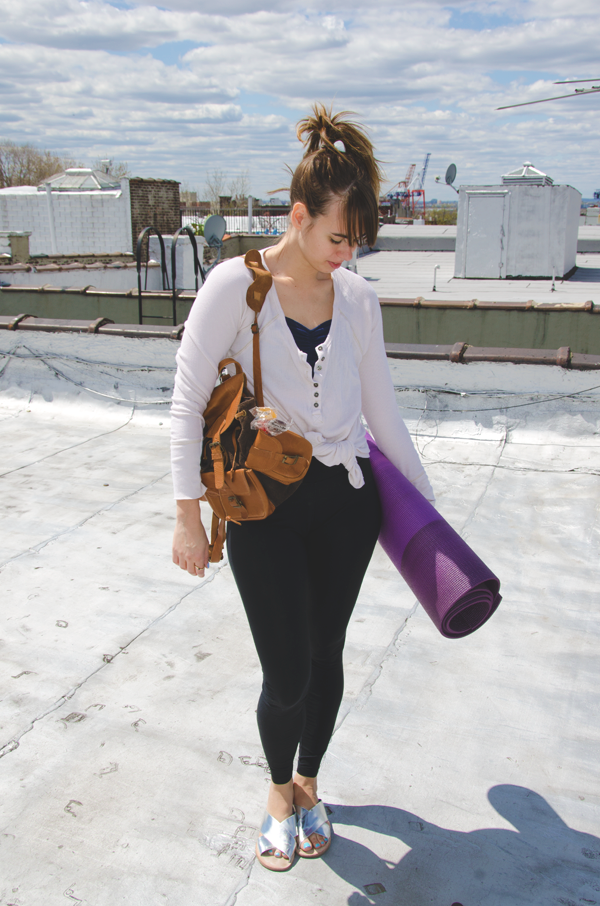 Shirt: Urban Outfitters | Bralette: c/o Aerie | Leggings: Nike | Sandals: Jeffrey Campbell | Backpack: Urban Outfitters
photos by Brian Cavanaugh
These delicious little pops are perfect for that afternoon little pick me...or if your like me evening sugar fix. Or even better to balance you out after a workout. The best thing is that I can totally enjoy these guilt free! I can suck on one of these while writing my post instead of blindly going through a bag of Sour Patch Kids. My favorite is the
Mytea Pomegranate
. This has the sweet flavor that I crave, yet it had a kick to it...probably from the roobios tea.
Would you replace your sweet tooth craving for one of these Dosha Pops?