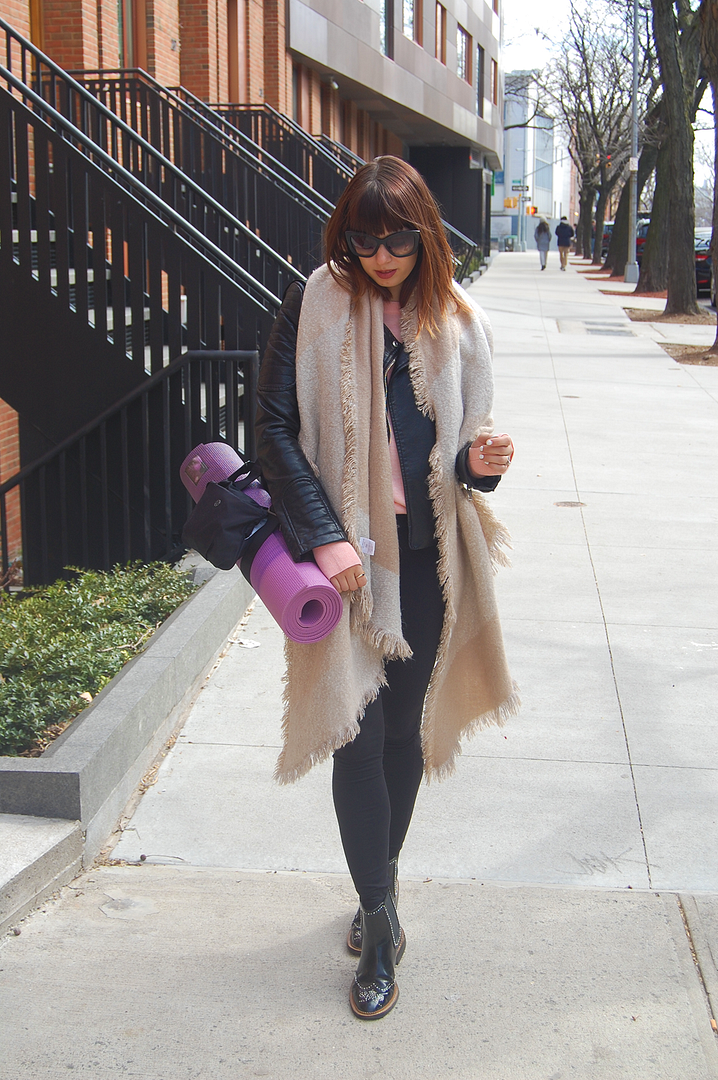 I'm all about trying new places and workouts, so when I heard about the hip hop yoga studio Y7 Studio I knew it would be my kind of place. I met my best friend for a sweat fest and brunch. So of course I needed an outfit that would take me to yoga studio to bottomless mimosas.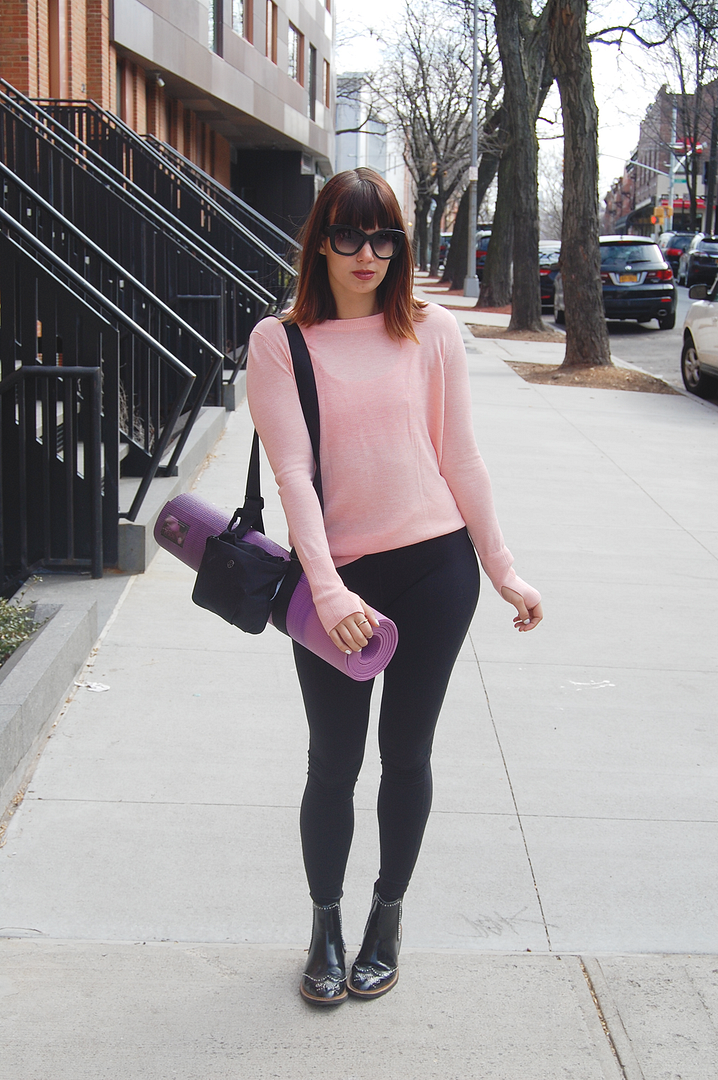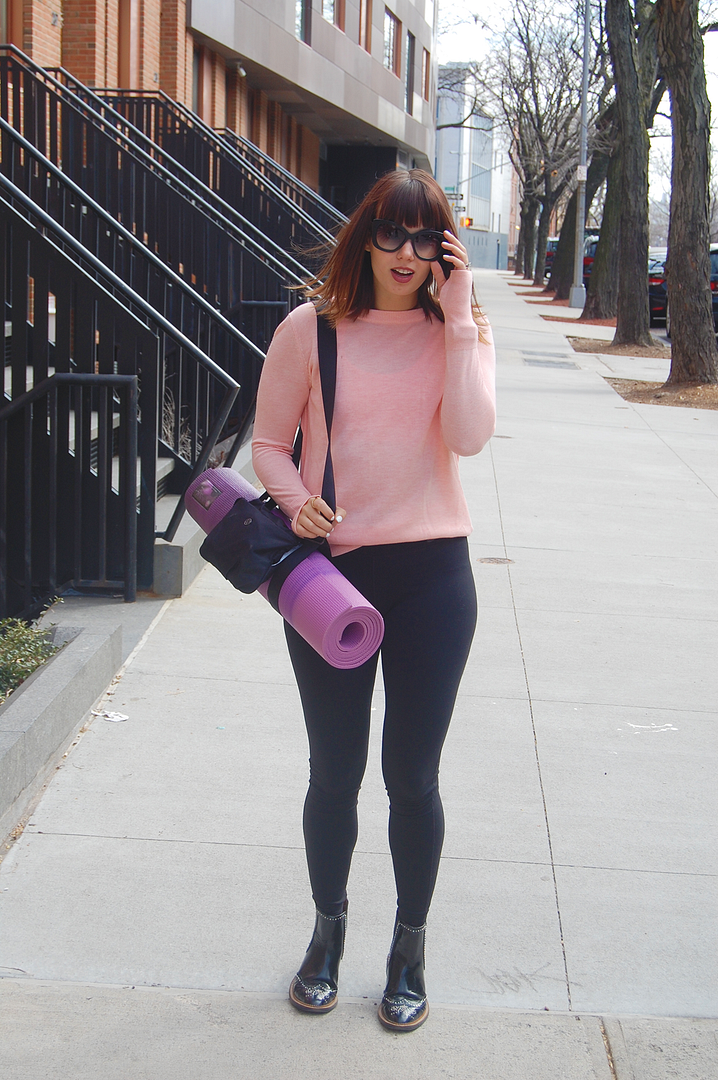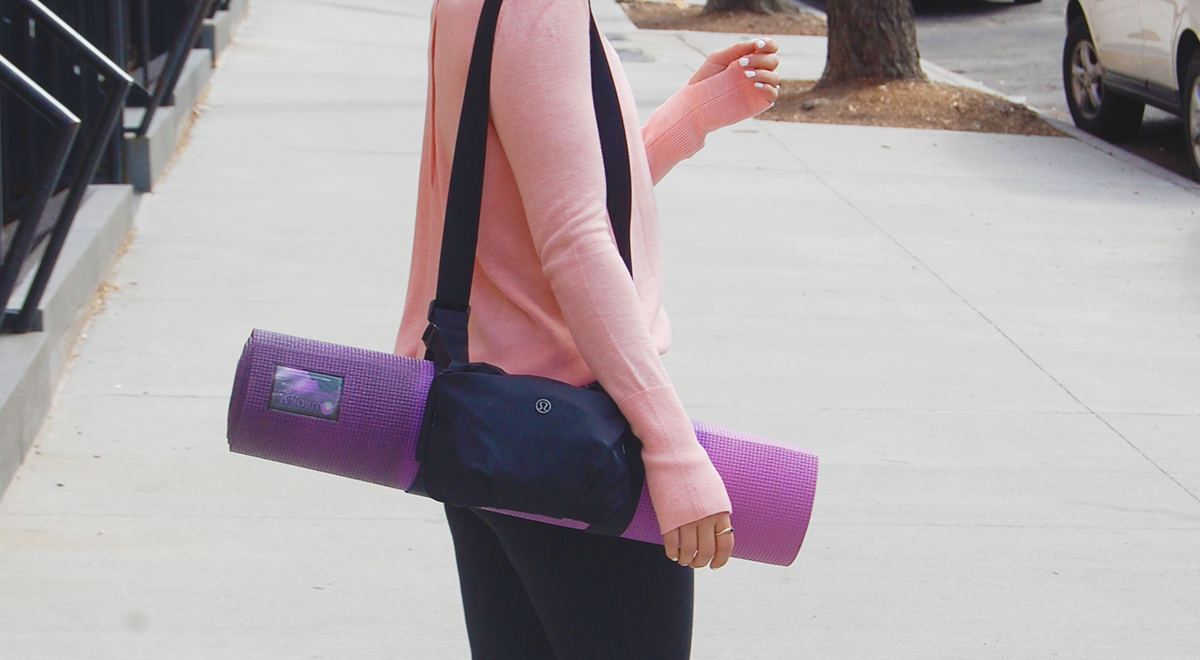 Jacket: Zara | Sweater: Lululemon | Pants: Nike | Sportsbra: c/o Onzie | Boots: Zara | Bag: Lululemon |
Sunglasses: Call It Spring | Scarf: Urban Outfitters
1. Black Leggings.
I'm such a New Yorker that even my workout gear is mostly grays and blacks. With that said black sport leggings are perfect to take from the studio to brunch. They are inconspicuous and go with everything. Some of my favorite brand leggings are Nikes, Lululemon, and Under Armour.
2. The Sweater
. Though its warming up here in the city over the weekend it was still quite chilly. In order to go from yoga studio to bottomless mimosas you need a chic sweater to do so. Lululemon is my go to place for all things chic, sporty and comfortable. This top is super soft, comfortable and chic.
3. Footwear
. Skip the sneakers and go for boots. Luckily with yoga there's no need to wear sneakers. I dressed up my look with a pair of studded boots from Zara. Plus boots and leggings are made for each other.
4. Swag Bag.
I skipped lugging around a huge bag and opted for a yoga strap back with a pouch to keep all my essentials (phone, credit card, make-up bag with refresh wipes, lipstick, hair clips, and eye liner).
5. The Cherry on Top.
Is there anything more chicer then a biker jacket? Or more street wear? Leather jackets toughen up any look, while given you major street cred.
How do you wear your workout gear outside the gym?