This Friday we are talking about how bloggers interact with eachother. How we reach out to each other and what we can gain from eachother. At least from my experience I think it's important to make connections with other bloggers, designers, pr companies, and others in the fashion industry. It is all about who know.
Rules of Engagement
1. Guest posts are a good way to gain new exposure. What do you think is the appropriate way to go about securing a guest spot?
I haven't done a guest spot yet on blogs but I would be interested in doing so (hint hint lol). I have guest written for websites like Fashion Indie. I think the most important thing is not being scared of putting yourself out there. Sure, you have a blog but guest writting is a scary thing and one way to at least take a stab at it is by sending an email out. If you are sending an email to someone that doesn't know you, make sure to send them details about your own blog, even the specs like how many viewers you get. Also your branding comes in handy, make it know what you are all about and your blog. Make sure your material is what would fit with whomever you are guest posting for. Making connections is def. important and this is one great way because if you do it and you get it and they love it....then the next time they need someone to do a guest post they will think of you.
2. Leaving comments is essential to growing your blog. But how can you leave a comment without coming across as 'Follow Me. Follow Me!'?
I honestly hate when people leave me comments that only say "If you follow me, I'll follow you back." That means nothing to me. I like leaving thoughtful comments and with each comment that I leave I always leave a link so that they can easily connect with me (if they want). I think leaving thoughtful comments will make people more interested in seeing what you have to say. Most of the time if I see someone just left a comment saying something very generic or saying "follow me, i'll follow you back" I'll skip over it. If someone actually leaves me a comment then I'll def. check out their blog. It's all about the leave behind. What will interest people in looking at your blog.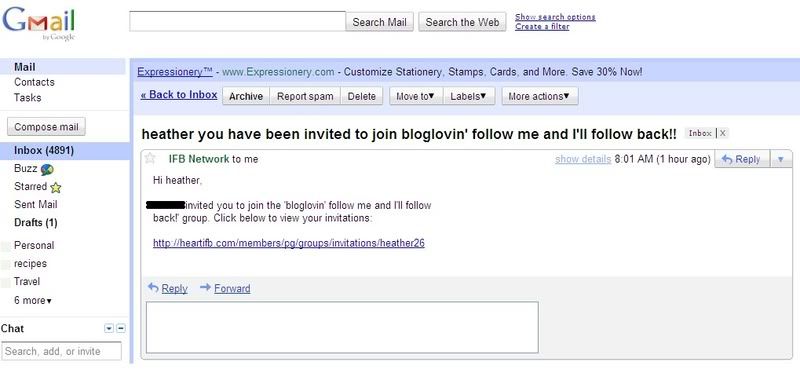 3. We've all gotten a mass email at one time or another asking for blog exposure, a link exchange, etc… But the mass emails don't work. How do you make your email stand out from the crowd?
I never have yet to ask bloggers to feature me on their blogs. Honestly I'm not sure why I haven't. I guess maybe it's because I don't feature other bloggers on my site?
4. In interacting with other bloggers where do you draw the line between seeking support and begging for exposure? I think making friends with other bloggers is very important. Whether its going to events and connecting or going to Meet Up events. I think it's important to make friends with bloggers so that you can help each other out. Whether it's you being featured on each others blog or helping write something up for each other. Either way it's exposure and it's helping each other out. I think the game of blogging is a give and take. You have to give in order to gain.
5. What's one rule of engagement error you made and how have you remedied that?
hmmmm....I don't know if I have yet.....