Outfit details on the right | Hat: Rag & Bone | Bangles: Nasty Gal | Tee: Delias | Shorts: Kohls
I came across the picture on the left on Pinterest this week and new that I had to copy it. I love that way she dressed down a sequin bottom with a graphic tee and a wide brim hat. I've been wanting to try the whole dressing down a sequin skirt for a weekend look, so tried it out this weekend. I thought that I would feel weird about wearing a sequin skirt during the day, but you know what I totally had forgotten that I was even was wearing sequins. The whole whole graphic tee def. helped me forget about it.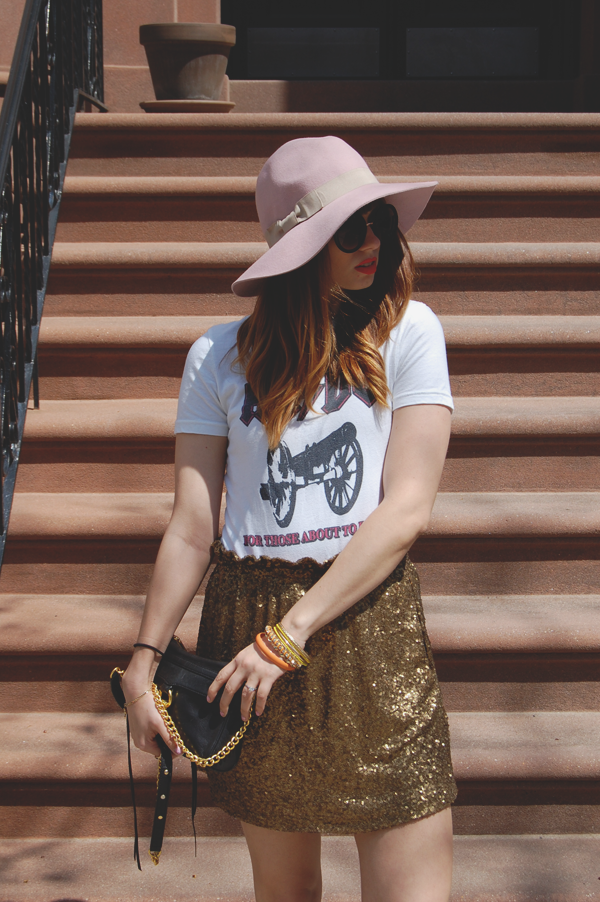 Shirt: Venice Beach Vendor | Skirt: Joe Fresh | Sneakers: American Apparel | Hat: NYC Street Vendor |
Bag: c/o Rebecca Minkoff | Sunglasses: Aldo | Bangles: NYC Street Vendor
Would you try this look?