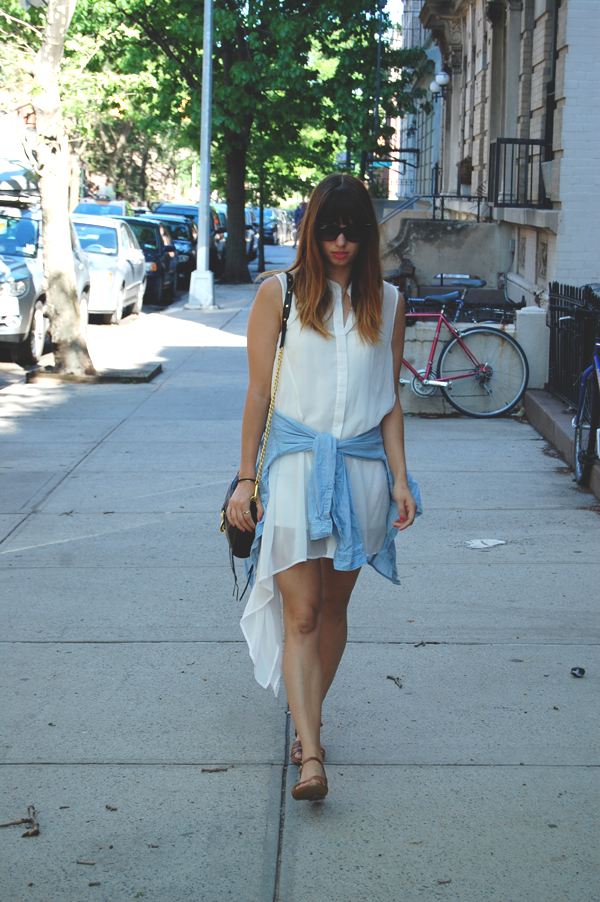 Shirt: H&M | Denim Shirt: Loft | Sandals: Urban Outfitters | Bag: c/o Rebecca Minkoff | Sunglasses: Glow Accessories
When I tried this shirt on I automatically knew that this would make a great little summer dress, as it was long enough to be worn as a dress. It's also easy to through on and go, perfect for a weekend shopping date. With a sheer asymmetrical top you'll need a good slip. I have a few simple tank white slips that go under my more sheer clothing. These are something every woman should have in their closet (you should have the basic slips: nude, black, and white), as they are a simple fix to your sheer clothing problems. To keep a asymmetrical top that pulls away from you a bit more fit tie a denim top around your waist. It's also practical for those cooler days or nights, and keeps you looking downtown chic.
What do you think of this look?