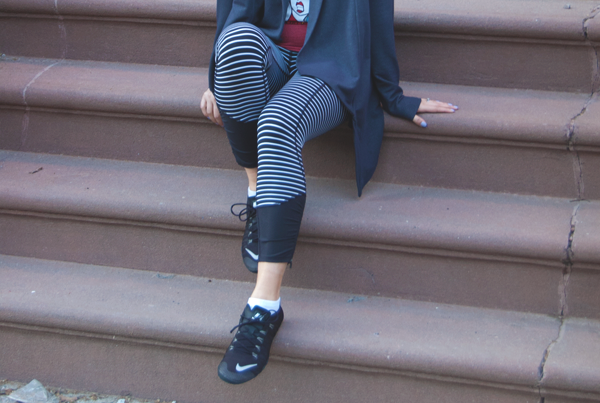 Sweater: c/o Lysse | Shirt: Project X | Pants: Lululemon | Sneakers: Nike
Though you might not even think about it, your fitness gear is pretty crucial for a good workout. You can get fit and look great while doing so! There's no shame in wanting to feel your best while trying to be the best.
Set the Tone
. I find that clothes that are motivating or make me feel good sets the tone for my workouts. If I feel like I can tackle a workout in these clothes then I know I will. This means finding clothes that you feel comfortable working out in and motivates you to get moving. Whether it's a motivational top (love the ones from
Project X
and
Abundant Heart
) or a pair of great compression pants. You want to be able to move in whatever you workout in. If you can't properly move or sweat in your clothes then you won't have the best workout.
Know What to Invest In
. You don't necessarily need to spend a lot of money on workout clothes but do know what to invest in. When I first started working out I didn't spend a lot on my workout clothes, most of it came from Forever21 and Old Navy. These worked out for me for awhile until I got more active. I found that compression pants from stores like Lululemon, Nike, and Under Armour were worth every penny. They are comfortable to move in, flattering, and breathable. But the real investment is in sneakers. Whatever you do, invest in a good pair of sneakers. Know what types of workouts you'll be doing and get sneakers that match that. As I do more weight and bootcamp style training the lighter the sneakers the better for me. If you have cheap sneakers that hurt your feet I can guarantee you you'll end up only quitting half way through your session.
The Sports Bra.
Even if you have itty bittys don't under estimate the power of a good sports bra. Know your athletic bras as well as the support you need for the different levels of workouts. Trust me you don't want the girls feeling suffocated or vise-versa.
Low Impact: Usually stretchy soft material. Made for yoga, stretching, and light endurance workouts.
Mid-Impact: Running, Training, and everything else in between. More sturdy, look for breathable material.
High-Impact: High intensity training. Look for breathable material, something cupped to keep the girls in place.
Turn to stores like Forever21 and Old Navy for fun workout basics; shirts, sweaters, etc. They are great place to start to building your workout collection. Checkout Free People and Urban Outfitters for funky workout clothes. Free People has a great collection for all the yogies out there! Just remember to have fun with your workout gear. No rules apply here, just be excited to put them on!
What are your favorite workout pieces?