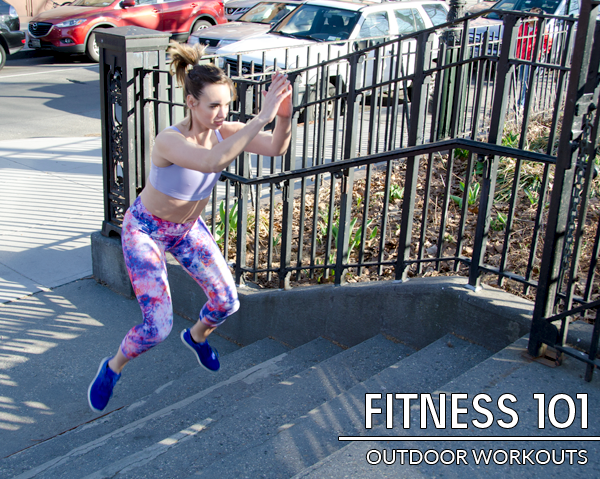 Spring time means getting outside and enjoying the weather. After such a harsh winter, it's nice to take my workouts outside. Let benches and stairs become your gym equipment. I've teamed up with
Onzie
to show you how to spruce up your workout with some Spring gear and outdoor workouts!
BENCHES: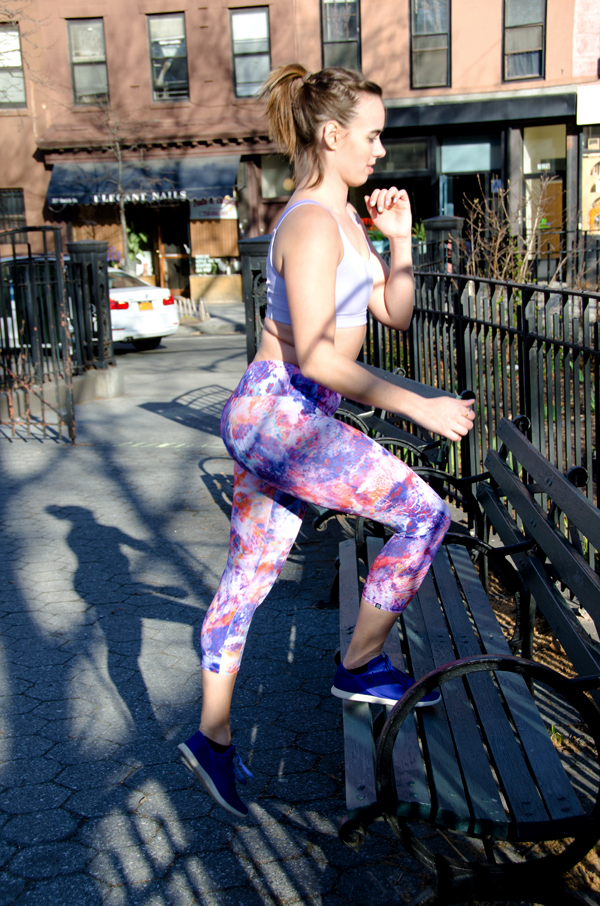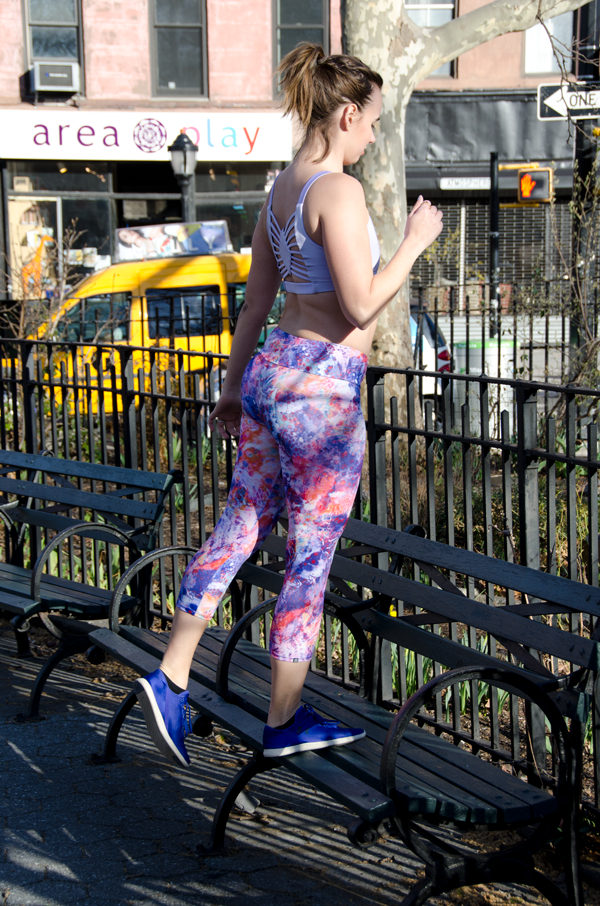 Step Ups.
There are different ways in which you can do step-ups using a bench. One way is stepping up with your right leg and bringing your left leg up to step on the bench, then step back down with left leg. Repeat this step 10 times on one leg and then repeat the process on the left leg. Second way is to step-up with your right leg and leaving your left leg straight, never touching the bench and come back down on your left without bending it. Repeat 10 times on this leg and then repeat the process on the left leg.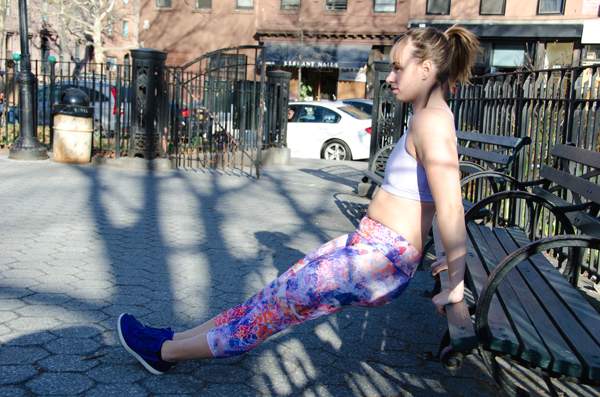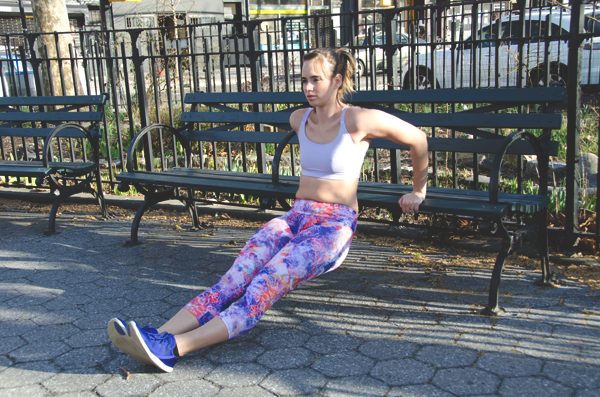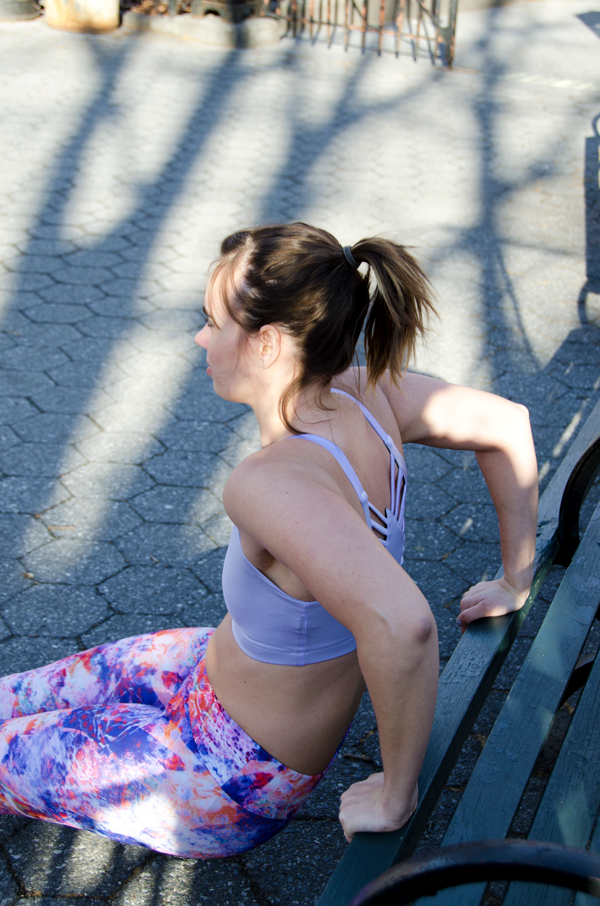 Dips.
Bench Dips are a perfect workout for your triceps. Sit on the edge of the bench, place palms at the end of the bench facing out, and place your legs stretched out in front of you leaving your heels touching the ground. With straight arms move your body away from the bench and have your heels of your feet on the ground. Begin to dip your body towards the ground by bending your elbows. You should be able to feel a stretch in your cheat or your shoulders. Raise body and repeat. If the move is to hard with your legs stretched in front of you bend your knees.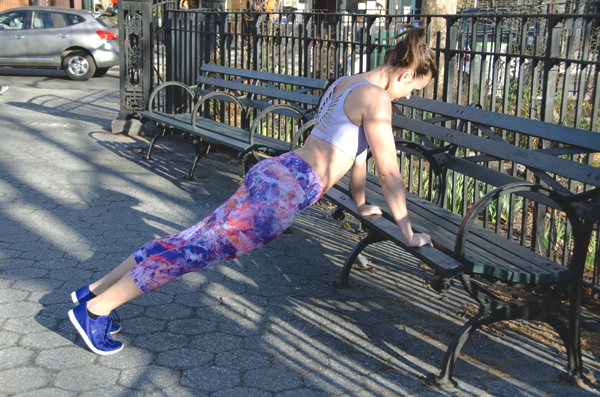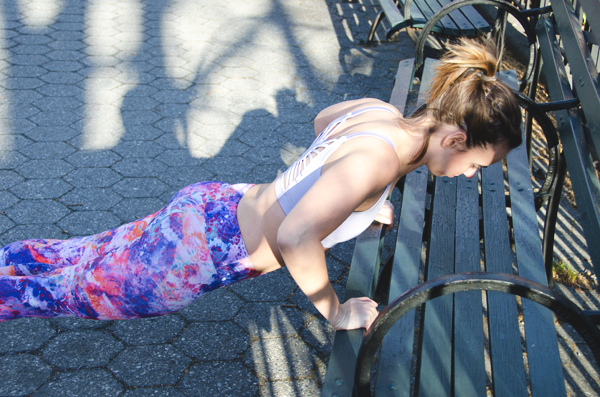 Incline Push-Ups
. Push-ups are not only great to strengthening your arms but as well as you abs. To do an Incline Push-Up with using a bench start by facing the bench and placing your hands at the edge of the bench slightly wider then shoulder width apart. Position your feet from the bench with your straight arms and body. Arms should be perpendicular to your body. Keeping your body straight, lower chest to the edge of the bench with bent arms. Then push your body up with straight arms, repeat process.
SHORT STEPS: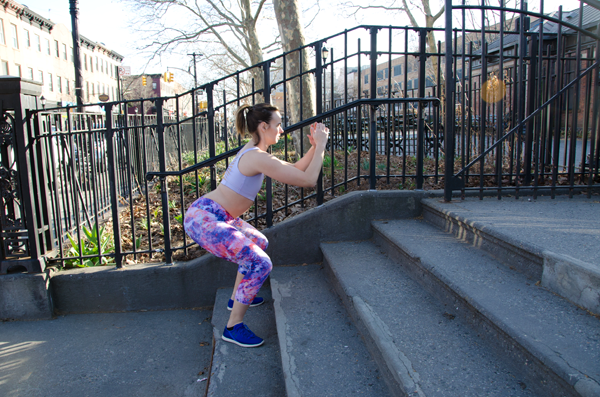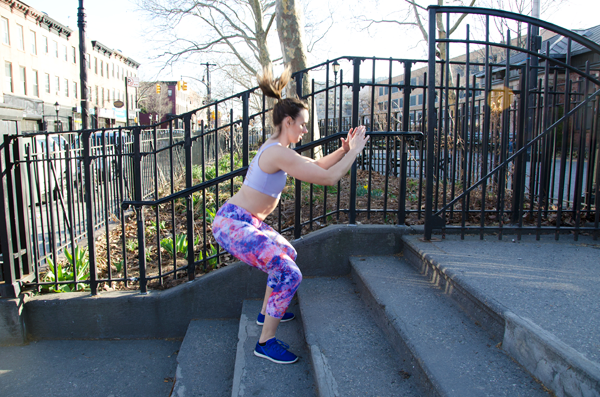 Squat Jumps Up Stairs
. Some see just a short staircase, I see a tool to use for a great leg and butt workout. Start at the bottom of the steps, stand with legs about shoulder width apart and do a regular squat (don't know how to squat? read
here
). As you come up from your squat explode up and propel yourself forward so that you land onto the next step, when you land come back into a squat position. Keep your landing soft. Once you get to the top of the stairs run down and repeat the process. This move is a cross between Squat Jumps and Box Jumps.
These moves are a great addition to any run that you do this Spring through a park or in your neighborhood. They can help you build muscle and get strong. Plus, like everything there are many variations to some of these workouts to assist you or make the workout a little harder. As you mix up your workout, don't forget to switch up your workout gear!
Onzie
has you covered is season with their bright prints and colors. Their workout gear isn't only just good looking but totally functional and comfortable! Plus, the price point is super affordable!
What is your workout routine this Spring?