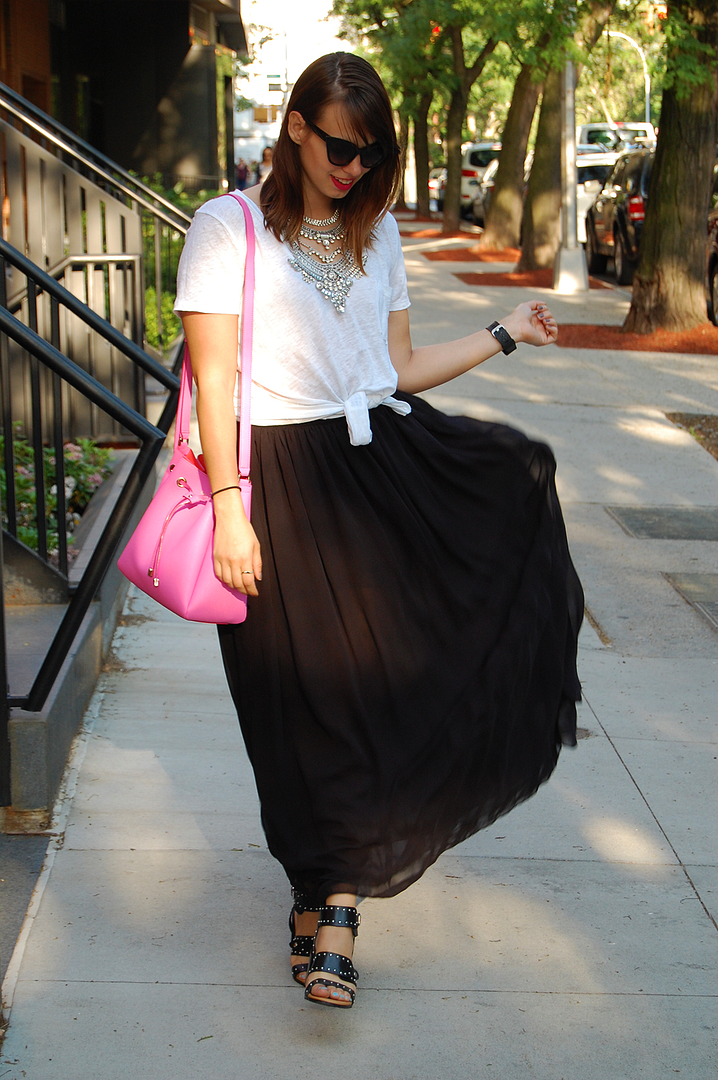 Shirt: J.Crew | Skirt: American Apparel | Shoes: Topshop | Bag: Kate Spade | Necklace: c/o Happiness Boutique |
Sunglasses: Feather's Boutique
I've been eyeing chunky layered statement necklaces that are typically out of my price range for what seems like forever. So when I found out about Happiness Boutique and found
this necklace
, I knew it was meant to be. Happiness Boutique is an international online jewelry retailer that sells gorgeous pieces at affordable prices and free shipping! If those aren't enough perks for you, they also offer a
customer reward program
where you can earn points to get rewards such as receiving a free piece of jewelry. Wearability and affordability are two of the most important things to do me...
Happiness Boutique
offers just that. I love that they have a little bit of everything for all different women and style. This necklace's name is so fitting for the design,
Glamorous Over the Top Statement necklace
...I got soooo many compliments when I wore it. It's eye catching so it's perfect for a simple black and white outfit or a t-shirt and jeans look.
PS Do you want EVEN MORE PERKS!?! My readers get 10% off on their order of $21 (or 19 euros) till July 3rd by entering the code: FASHIONISTANYGIRL at checkout. Just go to happinessboutique.com to receive 10% off your order now!