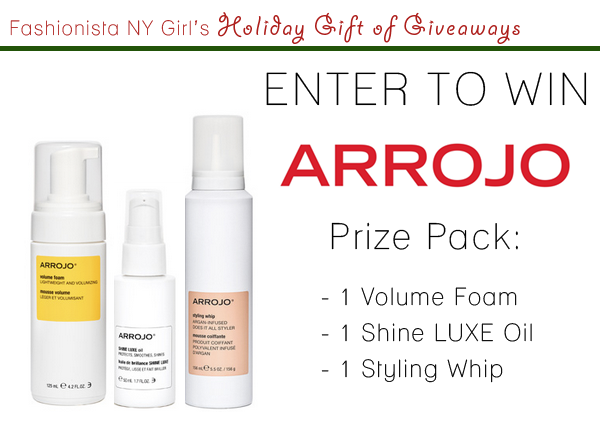 Tis the season for Holiday hair, Fa-La-La-La... We all want that perfect hair for our office Holiday party or even for our friend's casual get together.
ARROJO's
hair products can help you achieve your favorite look, whether its a sleek straight look, decked out in curls, or your bunloved bun. Lucky for you
Fashionista NY Girl
is giving one lucky reader a chance to win a
ARROJO
product gift pack, which includes:
Volume Foam
,
Styling Whip
, and
Shine Luxe Oil
.
Here are some hairspiration and tips for your Holiday party season!
Sleek and Straight:
Jacket: Urban Outfitters (old) | Shirt: Target (old) | Jeans: Joe Fresh | Shoes: Isabel Toledo x Payless (old) |
Sunglasses: Glow Accessories
Use a good "cocktail" size of the
Volume Foam
and
Styling
Whip
apply from roots to ends on damp hair, then blow dry. T
he foam gives lots of body and bounce while the whip will add light hold and luster. Once dry, use the Shine Luxe Oil through the mid lenghts and ends. This is one of my favorite products this gives your hair such a healthy shine, really makes your hair vibrant. Optional, take a straightening iron to create a sleek and smooth volumes look.
Waves:
Truth be told there are few occasions I break out the curling iron. I'm no pro with one. That's why I got some quality advice on how to curl your hair from an ARROJO stylist. I used a 1 inch curling iron but didn't use the clamps, I wrapped my hair away from the face holding the ends of my hair with my thumb and index finger. If you take small portions of your hair you will create small ringlets, the more hair the looser the wave.
Also the time you leave your hair curled on the iron is determined by when you can feel heat on your hair. Once you can feel heat on the section wrapped around the curling iron it's time to take it out. Now you can just ruffle your roots to unravel the curl as desired. If your hair is like mine and doesn't stayed curled, once you've taken out the iron use a small clip to clip the curl into place at its base, wait for it to totally cool and now gently run fingers through your curls. If it ends up too strong first brush it out, and if it's still too firm, use the heat of your dryer to break the wave a little.
Enter for a chance win an ARROJO Gift Pack which includes one bottle of Volume Foam, one bottle of Shine LUXE Oil, and one bottle of Styling Whip! One winner will be chosen at random.
Contest ends Wednesday December 11, 2013 at Midnight.
a Rafflecopter giveaway
How are you styling your hair this Holiday season?