From down the run way to celebrities the galaxy print is every where. Katy Perry, Carey Mulligan, and Claudia Schiffer are all shown sporting their out of this world look. The look is out there but it's great for a casual day look or for a formal event.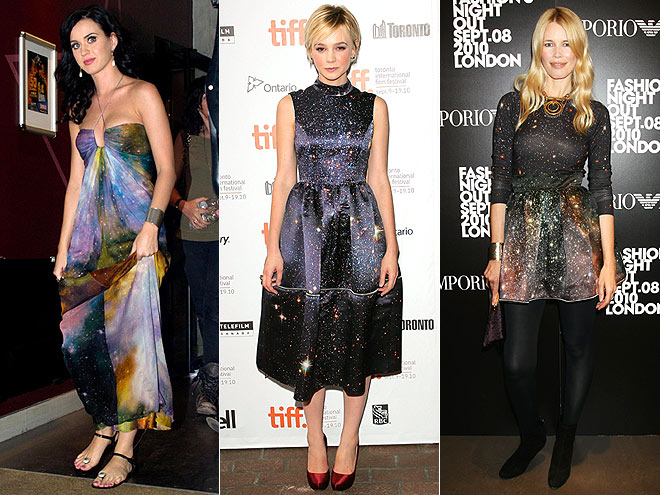 So you don't have the money to buy a Lela Rose Fall 2010 galaxy inspired pieces. You can steal the runway look and celebrities look for less. Here are a few pieces that I found:

Topshop's galaxy t-shirt ($84) gives a good dress down galaxy vibe. Pair it up with some leggings and ankle booties and throw a motorcycle jacket on for a cool fall look. This look is great for hanging out with friends during the day.

Try pairing up a galaxy dress with some red pumps like Carey Mulligan. It compliments the colors in the dresses well and it really makes a statement. Red satin like the Orli Pump ($160) will match well with a dress that has a sheen to it. For a more less expensive red pump try a Patten leather shoe like the Forever21 red pumps.

The galaxy prints are fun prints so have fun with it. Try shoes that are different and go with the color in the dresses like the Matiko Nicki Peep-Toe Wedge ($148 Urban Outfitters) or the mint green pump from Urban Outfitters ($40). Matiko Nicki Peep-Toe Wedge design and look is out of this world from the wedge to the small peep hole in front, this shoe is just not an ordinary shoe.

Although this dress is more on the expensive side I truely love it. It's the Kaylee Tankus Silk Charmeuse Galaxy Dress (orginally $451 on sale for $225). I love how this dress is like a blanet but form fitting and has a cascade back.
This look gives a whole new meaning to astronomy.
What do you guys think of the galaxy prints?