Poncho style shirts and sweaters are everywhere. Even just ponchos! The weather is slowly getting cooler (except here in NY where we are having another heat wave but then we should be slipping into some cooler weather) which means hoodie weather...which can now mean poncho weather.
Kylie Minogue was seen on the streets of NYC looking fabulous in a off the shoulder poncho sweater, Alexander McQueen Leggings printed leggings (
net-a-porter
) and strappy sandals.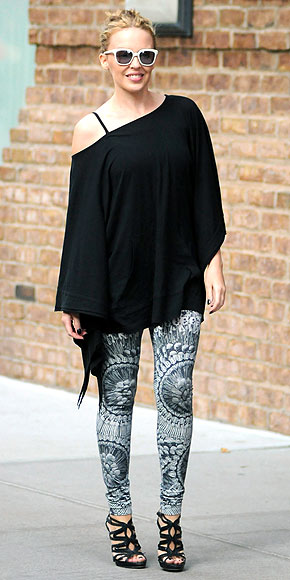 I wish she would have put on some red lipstick cause then the look would have been totally pulled together, but still she look fantastic.
Here is how you can get Kylie Minogue look for less:
H&M's camel poncho sweater ($19.95) is perfect for this fall. It is a great alternative to get away from the blacks but perfect because this fall colors you can't get enough camel toned clothing. The Gap's leopard print leggings ($15) are also great for an alternative less expensive leggings. The print is also perfect since it is another print that you won't be able to get enough of. American Eagle's Poncho hoodie ($49.50) is incredibly comfortable! You will not be able to take it off. You can easily dress them up with printed leggings and some strappy heels. This look is great for the fall days where you want to just be able to throw something on but still look chic. It's pretty much the ideal outfit to go get coffee and sit with a Pumpkin Spiced Latte and cozy up with some magazines and books.
Don't forget to pull this look together with some red lipstick and white sunglasses.
What do you think of Kylie Minogue's look?