The 25 year old New York designer Kimberly Taylor presented her Fall 2011 collection Wednesday February 9th at Dop Dop Salon in SoHo. Taylor first debuted her line in Spring of 2009 where she made her mark in the fashion world. This fashion season she presented 17 looks consisting of pops of red, minis, maxie dresses, men inspired trousers, and tailored blazers. This collection is all about having fun with fashion, being fierce and playing around with the idea of being a "man repeller" and a man getter.
Leandra Medine of the blog
The Man Repeller
helped style Taylor's collection and it showed with the pairing of bow ties, ties, and leather detail jackets over leopard print mini skirts. Just so we are all on the same page a man repeller is not a negative thing, according to Medine a man repeller is the fashion that woman love and that men hate. Taylor's collection is everything a woman loves: bold colors, leather details, leopard prints, minis, and maxis. The great thing about these pieces is that they can be worn to repel and to attract. The show stopping, head turner dress that will make men wish they were with you and the man that is will want to keep you close by in the low cut leather detail shoulder dress. Of course with some layering like leather detail shirt over, white collared shirt paired with a bow tie and leather detail trousers will keep the men at bay but woman wishing they were you.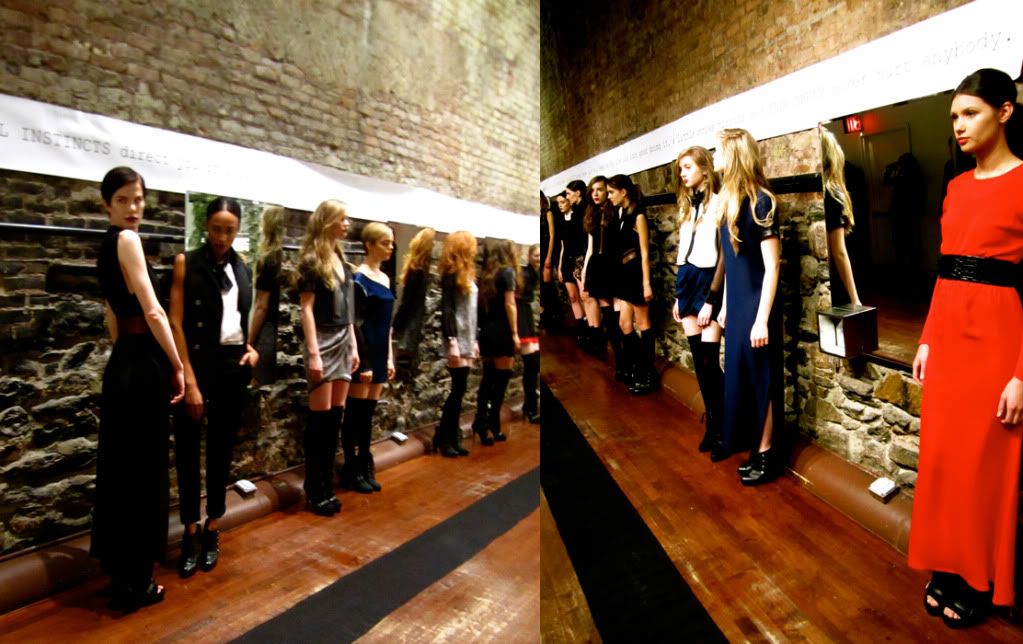 Taylor's Fall 2011 collection has a youth fun spirit but with a touch of sexiness in all the right places. There's really nothing more fun and fashionable then being able to play around with your clothes and her pieces allow you to do just that. Each piece in this line can be paired up with each other or stripped down. Her collection is filled with basics but with added details which gives it an edge and keeps it interesting. These pieces can be worn totally dressed up or dressed down. The possibilities with this line are endless.
Kimberly Taylor is a must have line for any fashionista. I can see it now, woman walking around the streets of SoHo strutting there stuff in maxi dress with details of leather for the fall. So keep an eye out for Kimberly Taylor. To learn more about her and to check out her Spring 2011 collection visit:
kimberlytaylor.com
.