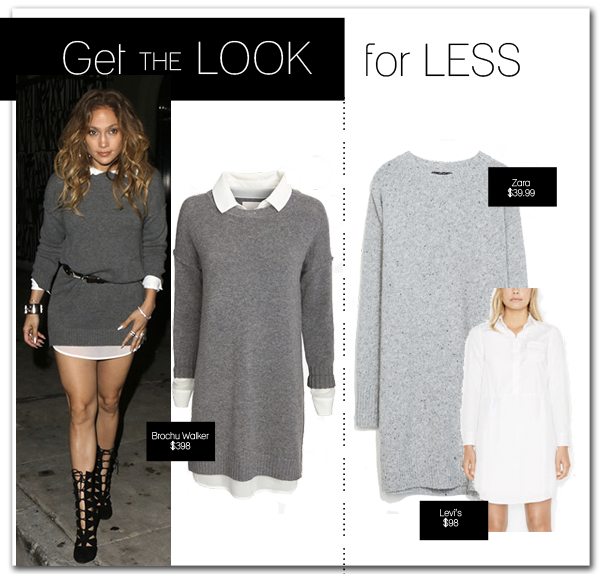 The Look: Brochu Walker exclusively at Intermix $398
Jennifer Lopez is known for her sexy style so it's nice to see her in something a little more conservative...and something that everyday woman can pull off. Lopez's Brochu Walker blouse sweater dress will run you $398, exclusively at
Intermix
. Don't have that kind of cash laying around? Well have no fears, a simple pairing of a sweater dress and oversize button down (or a white collared t-shirt dress) can get you the look but for less.
How I Wore the Look:



I love Brochu Walker blouse sweater dress, it's classic and does the pairing for you. But why buy an expensive sweater dress when you have the pieces in your closet to make the look yourself? I simply paired up my grey sweater dress and oversized button up from H&M. The sweater dress tended to be a little longer then the button down so I used the belt to hike up the sweater so you can see the bottom of the white shirt. Another use of a belt can be to hike the whole look up like Lopez did, but beware when you double layer hiking the look up can add bulk. I paired my look up with a pair of over the knee boots but you can do ankle booties as well. This look works perfectly for a winter date night.
Would you copy this Jennifer Lopez look?