Mexican food is one of my favorite foods of all time. There just something about the flavors and the spices...and the guac! O how I crave
guacamole
. I've been to some really great taco places here in NYC hard to keep track of them all. I love places that are unique in style and also have their own little twist on Mexican food. Here are some of my favorite Mexican places:
Bar Bruno
520 Henry Street, Brooklyn, NY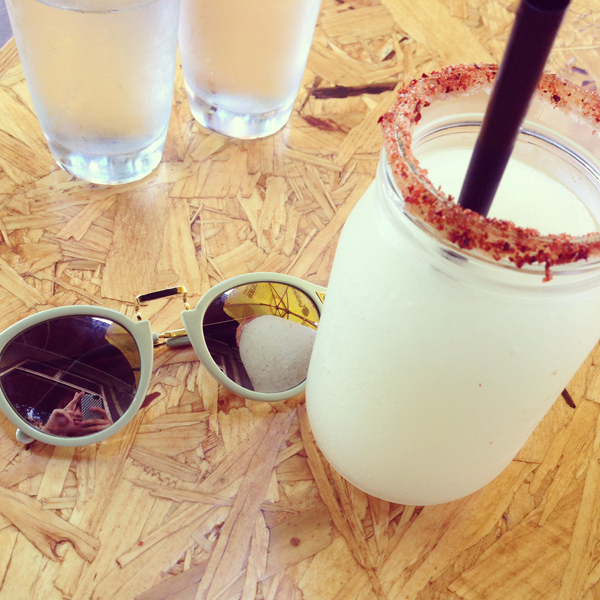 Bar Bruno is one of my husband and I's favorite local places. It's conveniently located up the block from our apartment! During the summer months my husband and I like to sit outside enjoying some fresh air as well as tacos and margaritas. My favorite dish to get here is the Fish Tacos (
beer battered with
avocado tomatillo salsa and pico de gallo). The fish being beer battered gives it that nice flaky textured, but it's not overly deep fried and greasy. Pair it up with the plantains on the side to give the meal the extra little added sweetness. If you come here you have to try their drinks. If you like spicy then you have to try my favorite drink, Cubana (chili mix, lime, chili rim). It's a delicious kick in the mouth.
Tacombi
267 Elizabeth Street, New York, NY
If you are ever in SOHO/NOLITA looking for a place to eat...head off the beating bath and try Tacombi. My husband introduced me to this place and it was love at first site. Think a taco truck but indoors! Strung lights, folding chairs and tables, and a old VW wagon converted into a taco truck pumping out food It's truly a little hidden gem. The place is rather big but nothing super fancy. They have homemade
juices
, soda, and their own cocktail list. They recommend 3 tacos to fill you up but 2 tacos and a side of rice & beans will also do the trick.
Defiantly
try their
sauces
that are on table, the
jalapeno
one was my favorite (obv. no surprise). I mixed it into my rice and beans for an extra kick.
Lobo
218 Court Street Brooklyn, NY
Lobo actually has two locations in Brooklyn, Carroll Gardens and Park Slope. I've only been to their location in Carroll Gardens as it is walking distance from my apartment. As you can see we stay pretty local. Lobo is a Tex-Mex style
restaurant
with the decor to match, cowhide cover seats and bull horns. Their menu is pretty extensive with picks from Mexican favorites (tacos,
fajitas
, burritos...) and favorite American-Southern food (burgers, fried chicken, chicken fried steak...). We love taking our guest here as it has a good mix of food, their drinks are amazing, and the outdoor space is pretty spacious (considering you're in Brooklyn). It's one of the first places we stopped in when we moved here and it has been
constantly
good ever since. It's one of my father's favorite places to get a burger from when they come in to Brooklyn for dinner. I'm a fan of the
fajitas
myself.