What's sexier then a pair of over the knee boots and a high slit skirt? Obviously nothing when you combine the two. In Olivia Palermo fashion, she perfectly combined her thigh high Jimmy Choos with a bright orange maxi slit skirt for an event that she attended. I love that this look is sexy and sleek. It's perfect for a date night look, especially for Valentine's Day. Pair it up with a pussy bow blouse, but to keep the look on the seductive side keep the bow untied and with a couple of buttons undone. As for beauty looks, take a note from Olivia and pull your hair back into an messy bun.
How I Wore the Look: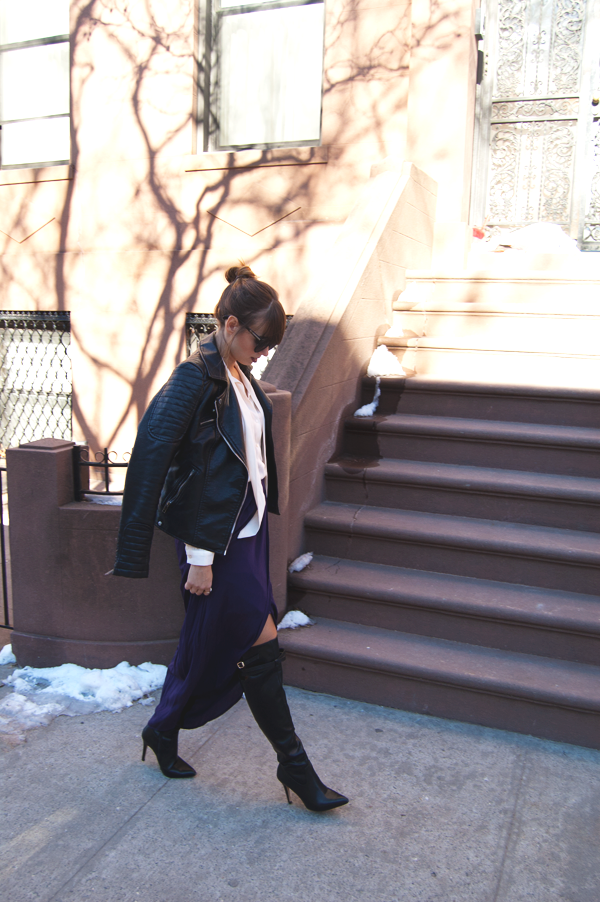 Jacket: Zara | Top: H&M | Skirt: Olivaceous (from ideeli) | Shoes: Altuzarra for Target | Sunglasses: Tobi.com
pictures by Brian Cavanaugh
I decided to toughed up this sexy look with a motor jacket. I love that a pair of leather over the knee boots give this whole look a bit of a bad ass feel to it. The great thing about this look is that you don't need to spend a lot of money on it. Lots of brands are doing their version of over the knee boots, like Macy's brand Material Girl, and maxi slit skirts are practically everywhere (especially as stores start to bring in their spring clothes). When it comes to finding inspiration from celebrities, I like to pull ideas from clothing that I already have in my closet. Looks like Olivia works as these might already be items hiding in your closet that might not get worn a lot. I know for me this skirt is one of those items. I like that this look re-works the skirt in away that I didn't think of doing before.
Would you wear over the knee boots with a high slit skirt?