"Fashion Shenzhen" is a chance for the city of China to show off their hottest designers here in New York City. This year featured Ellassay and Deng Hao. Both very different aesthetics.
Ellassay was the most Westernized of the two. The color palette was lots of black and white with hints of limes and blues. Lots of silks and chiffons were used to created structured menswear inspired pieces along with light, flowing sheer layering pieces. I liked the black & white menswear inspired pieces the most since that's my style. I wasn't particularly fond of the pilgrim scarves on the head or the holographic material (reminded me of an 80s prom). I'm sure as the designer grows, they'll learn to edit pieces more or to create a story with their collection.
Deng Hao was definitely unique to many of the shows I've seen thus far at Lincoln Center. They specialize in knits and woven fabrics and it showed. They were so intricate! The designer is inspired by architecture and you can see it in the close attention to details, which you can tell took many man hours to create. Some of the pieces were created by technology and some by hand. While these are pieces I wouldn't wear or found particularly wearable, I could still admire the close attention to detail and the skill. The last dress was a show stopper (pictured below bottom right).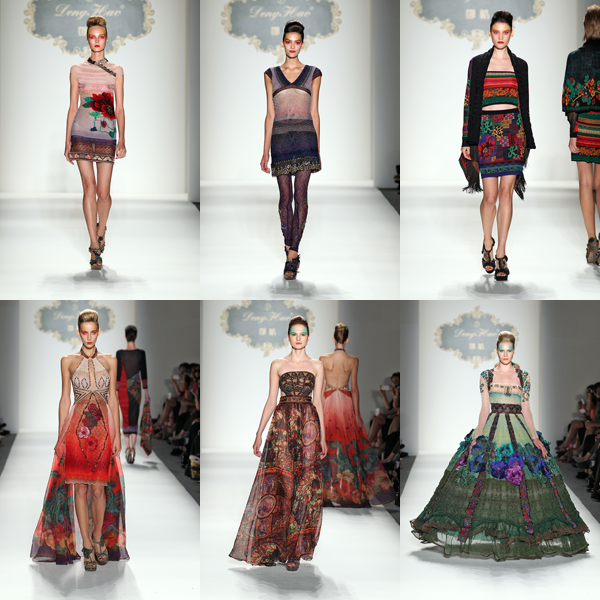 all pictures c/o

Company Agenda
---
NOTE FROM THE EDITOR:
Thanks to Kimberlee for covering not one but TWO shows for me this season. As a "small" blogger I would love to be everywhere at once, but I have yet to find that time turner (yes I just made a Harry Potter reference). With each passing season I begin to wonder if I need to put a fashion week squad together. Might be a new future for NYFW for Fashionista NY Girl.