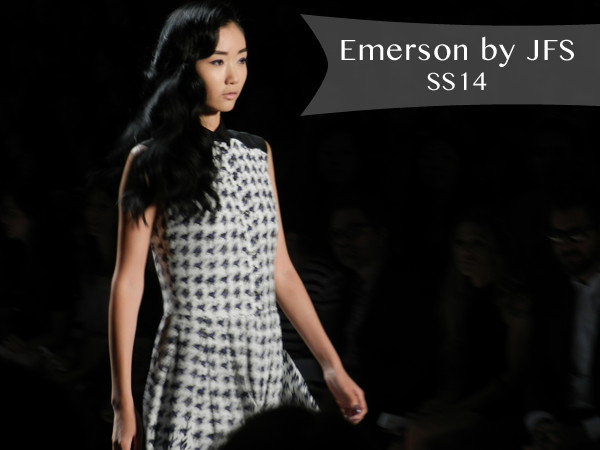 photo taken by me.
I feel like designer Jackie Fraser-Swan is talking to me through her clothes and her runway show. It's like she gets me. Her whole theme of her collection just speaks to me, "A group of punk rock kids crashed a private garden on the Upper East Side where the Ramones were playing a secret show ." Um...yes. Not that you could particularly tell through the way I dress, but I'm a punk rock kid at heart. I've always wished I grew up in the late 70s...early 80s, like old enough to go to CBGBs and rock out to the Ramones, Joan Jett, Blondie, Misfits, and so on. I love that Fraser-Swan's line, Emerson, is feminine and girly but has that punk girl feel to it. It's the way I like think of myself. These girls also had a killer soundtrack to walk down the runway to....Lorde, Rancid, and the Ramones (just to name a few). I mean I was even rocking out in my seat (probably why some of my photos came out blurry).
In this collection Fraser-Swan created three
custom
prints:
Garden Gate, Allium Flower Field
and
Painted Hounds Tooth. The Allium Flower Field print, it reminded me of the mirror print that was big this spring/summer, I'm glad that it's making an

appearance

again. Also looks like we will be extending our houndstooth from Fall 2013 to Spring 2014.
photo credit: Randy Brooke
I'm not sure where I'd be going but all I know is I need the final three dresses that walked down the runway. I would obviously crash a Garden Party in that...along with wearing a flower bulb on my. Also...that purple leather jacket can come home with me.
What do you think of this collection?