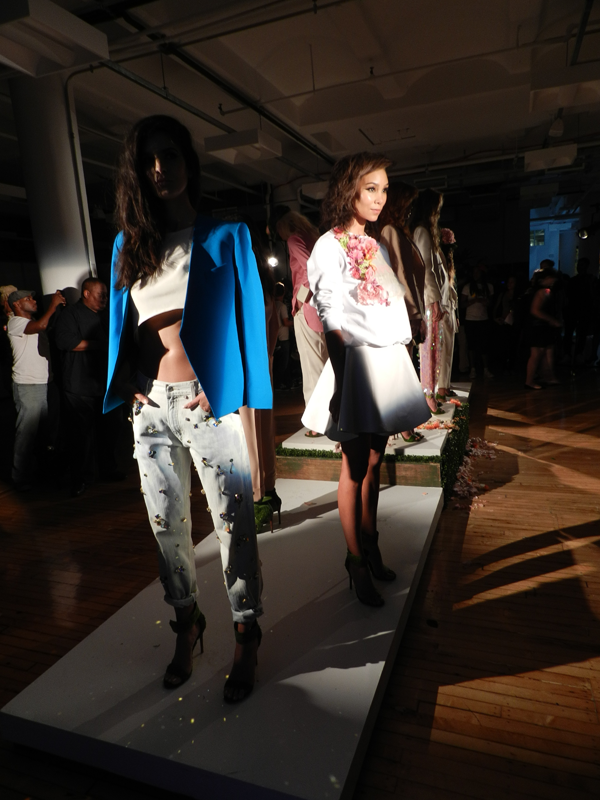 As much as I love my favorite top designers and getting excited to be able to go to a few of their shows, there's nothing like checking out a fresh face to the scene. I was invited to Jerome LaMaar's launch of 5:31 Jerome last night at the Inglot Studio, based right above the Chelsea Market. Through the sketches on the invite I knew I was in for something beautiful but what I wasn't expecting was to truly fall in love with the line. 5:31 Jerome is a fresh take on modern day street wear. With feminine touches and a bit of sass, it's every young woman's dream collection. The pairing of grass heels and flowered baseball hats was the cherry on top. What really captured this collection and made it feel well thought out was how they used the space, the low lighting that met with the natural light of the setting sun lead to beautiful pictures to capture such a stunning launch collection.


all pictures taken by me. view more here.
There are so many pieces in this collection that I would have ran out the door with then and there. Including the cream sugar coated motorjacket, the boyfriend jeans crystalized with Swarovski Elements, and the MORE t-shirt also crystalized with Swarovski Elements. Along with the flower baseball caps. The make-up was also on point, it was everything that I love: wet face and dramatic cat eye.

I'm interested in seeing the future of 5:31 Jerome. I truly wish great success on his endeavor, like they say on Project Runway "One day your in, the next day your out."

What do you think of this fresh face designer's launch collection?