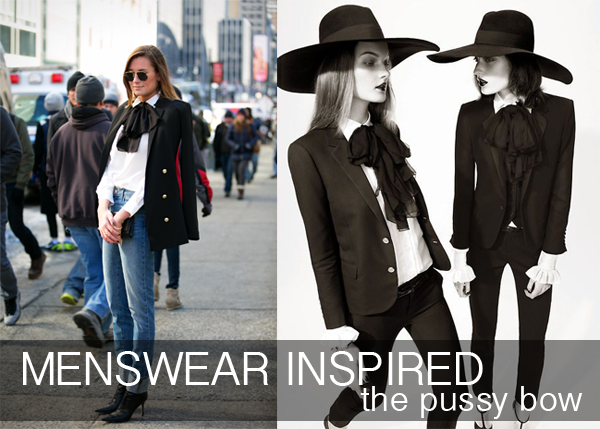 What a name for a blouse right? Pussy Bow...seriously who came up with that?

They have been made famous by classic designers like Coco Chanel and Yves Saint Laurent. These pieces have remained timeless chic pieces that have been staples in many woman closets for decades. They are fun to dress up in a super feminine way with a flowy skirt and pumps, but for me it's all about toning down the overly feminine look. I love seeing these tops paired with tailored pants and worn in a more menswear inspired way. So I decided to play with this top and my favorite pair of plaid pants from Zara.
Jacket: DKNY | Sweater: Forever21 | Shirt: Old Navy (old) | Pants: Zara (on sale) | Shoes: c/o Ann Taylor | Bag: Alexander Wang (sample sale) | Hat: Ralph Lauren (Century21) | Scarf: NYC Street Vendor
How would/do you wear the the pussy bow blouse?
PS. now to answer my own question thanks to Wikipedia "
It takes the form of a bow tied at the neck, similar to those that used to be tied around kittens' and cats' necks."