The MTV Movie Awards had some major hits this year and some major don'ts. One of my favorite looks on the red carpet was Scarlett Johansson's Dolce and Gabbana emerald green lace dress.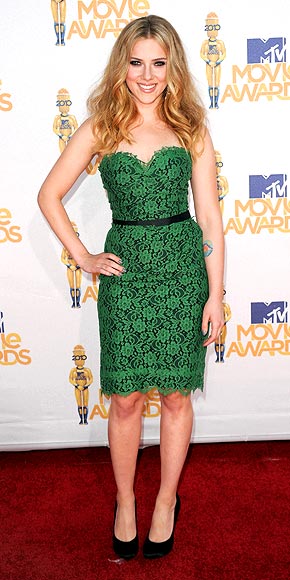 It's such a simple yet elegant dress and the color of the dress really makes it pop. I love the lace over lay and the cut on top of the dress. The little belt of the dress also helps show a little curve.
To get this look all you need is a dress with a lay over lay and some black pumps.
Outfit from left to right: 1. Madeline Lace Dress by Yuki**: $40 -
topshop.com
; Basic Platform Pump: $27 -
wetseal.com
; 2. Diamond Lace Dress With Detailed Neckline: $35 -
missguided.co.uk
; Faith Patent Pointed Court Shoe: $22 -
asos.com
; 3. Women's Dorothy Perkins Vero Moda Nude Lace Dress: $46 -
stylecompare.co.uk
; Women's Mossimo® Vesselina Peep-Toe Pumps: $25 -
target.com
; 4. Lady Audley's Dress: $50 -
modcloth.com
; Repetto Repetto Gitane Suede & Patent Heeled Mary Jane: $94 -
asos.com
To pull of Scarlett's look pair your lace dress with some simple black pumps. If you want to change up the look a little try pairing the dress up with black peep toe pumps or a Mary Jane type of pump. This will not only give it a look of you own but it will give a nice little twist and make it look fun. Try different dress cuts that best fit your body. Not everyone has a body like Scarlett so try on as many as you can find and pick the one that's best for you. Since there is a lot of details with the dress you don't have to worry about accessorizing. If you want to glam it up a little try wearing a simple bracelet.
Another great thing about this look is that it's a look that can be taken from day to night. Try pairing the dress up with a blazer for the day and for the night you'll be able to take it off and have a good time. Perfect for after hour cocktails with some friends.
With this look you should feel like a movie star walking the red carpet! Have fun with this look and try it out!