Sorry this has taken me forever to post this. The site that I create my sets on (
polyvore.com
) for some reason won't let me in embed codes, so I have to do a work around for now.
The Red Carpet trend lately has been short suits. They are perfect for a casual occasion and good for walking the red carpet. Short suits are comfy and flirty which is perfect for a night out with the girls or a date.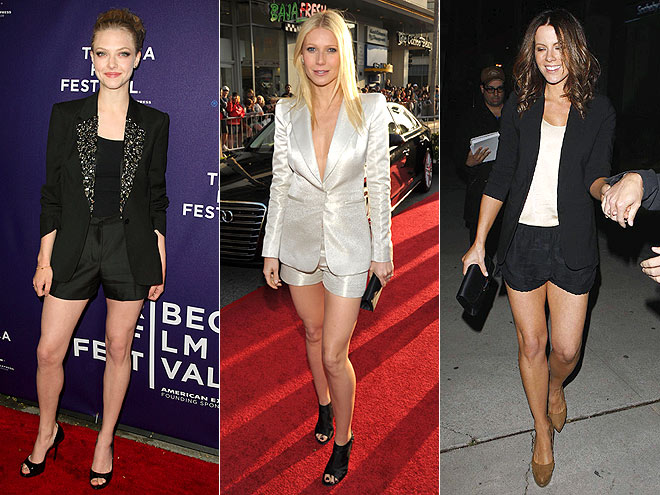 picture from: people.com
Amanda Seyfried, Gwyneth Paltrow, and Kate Beckinsale sport the suit shorts in the pictures above. Getting this look is pretty easy for and affordable.
Outfits from left to right: 1. 3/4 Sleeve Blazer: $125 - topshop.com; Old Navy V-Kneck Tees: $10 - oldnavy.gap.com; Raw Hem Shorts by Boutique: $80 - topshop.com; ASOS ASOS POSH Bow Heeled Shoe at ASOS: $66 - asos.com; ASOS Metal Tip Clutch Bag: $25 - asos.com;
2. Studded Pocket Blazer: $50 - freepeople.com; Old Navy Women's V-Neck Tees: $10 - oldnavy.gap.com; Belted Shorts: $65 - topshop.com; Velvet Pumps: $24 - forever21.com; Kimchi Blue Corsage Clutch: $13 - urbanoutfitters.com
The great thing about this look is that it uses some of the basics that if not every woman should have then most woman already have. You have your basic white or black t-shirt and you can use your basic black pumps or black sandals. Also, the basic black clutch that you use for your classic black dress. If you even have a blazer pair it up with some shorts. Or if you want a jazzer blazer get something like the Free People blazer shown above with some studds or a blazer with some sequin on the collar. But if you already have a simple blazer black, beige, or even blue you don't have to go out and buy another blazer all you have to worry about is the shorts. I believe that every woman should have this in their closets: the classic basic dressy shorts. It's such a great switch up to wear when going out.
If you don't want to wear a blazer and you don't want to wear a basic t-shirt you can do what Lauren Conrad did in the below picture.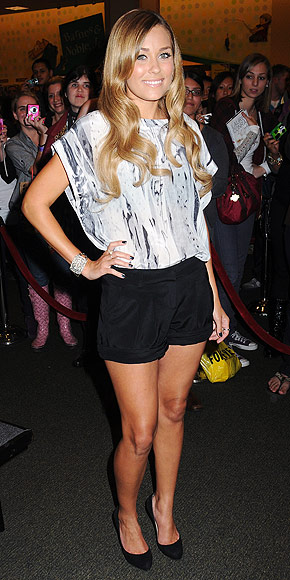 picture from: people.com
Instead of pairing up her dressy shorts with some basics she paired it up with a printed shirt.


Outfits from left to right: 1. Floral Print Ruffle Blouse at Awear: $37 - awear.com; Sateen Shorts: $88 - usa.frenchconnection.com; Steve Madden Caryssa - Black suede: $95 -heels.com;
2. All Greek to Me Top: $28 - modcloth.com; Pull-On Solid Shorts: $17 - charlotterusse.com; ASOS PHOEBE Lace Pointed Shoe: $30 - asos.com

Try Conrads look by pairing up your basic black shorts with a fun printed top with loose sleeves. Pair it up with some black pumps and simple jewlery, a bangle bracelet and some rings.
Hopefully with this look you'll feel like a movie star everytime you wear it.