How can anybody not love the classic black and white? Black and white is a staple in every one's closet. Now take the classic staple colors and add fun twist like a maxi skirt and you get a new classic staple. Kelly Osbourne, Freida Pinto and Natasha Bedingfield have been seen flaunting their stuff in black maxi skirts and white tops.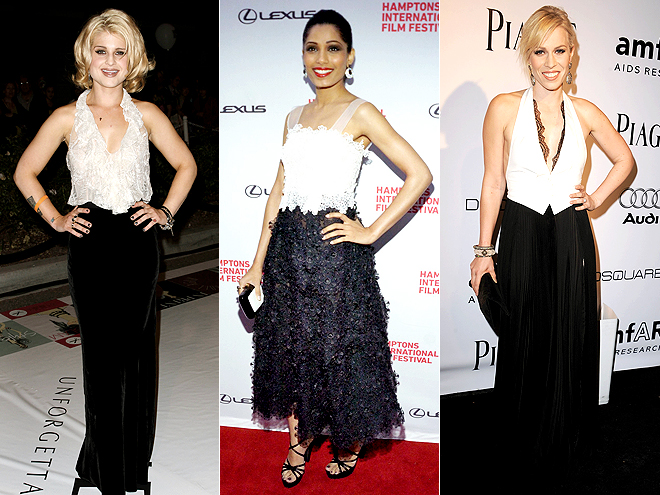 photo from People.com

This look is probably the easiest to steal since most of us have white shirts sitting in our draws and closets. If so then maybe all you would need to do is splurge on a maxi skirt and maybe some new shoes! And I mean really, it's pretty much an excuse to buy some new shoes.

Instead of going with a classic white top you can try and jazz it up a bit with something like a lace top like the one from Delias (2nd from the right) for $25. This gives the look a more fun twist to it then a plain simple white shirt. Also it can dress up the look, but if you're looking to dress down the look pair it up with a military style boots with a heel like a Forever21 Workman Lace-Up Boots (second from the left $28).
You can also do a simple white top with a design like the Madwell Silk Intermission Top (3rd from the left...$95). Wearing a top with a little bit of design helps make the outfit stand out more and a shirt like the Madwell shirt can be dressed up for a dinner party look. To give your look a even more fun edgy look try a sandal that stands out and sparkles like the Charlotte Russe Chunky Glitter Sling Backs (3rd from the left....$43). A bit of sparkle will be a nice added touch and a great little peek from under your black maxi skirt. You can even try a off white shirt with a bit of a design to it like the Topshop Lace Roll Up Sleeve Zip Back Tee (last on the right....$70).
If you want an added surprise try a top that has an interesting back like the Nasty Girl Draper Sweater (first on the left...$55). Something that is backless or has a hint of surprise on the back is a nice added touch.
My favorite shoes to pair up with maxi skirts are wedges. There are something about maxi skirts and wedge heels that are spectacular. To me it's like peanut butter and jelly. They just go hand in hand. Military style boots are also fantastic way to dress down a look for a casual look.
That's another thing that is great about this look! This look can easily be dressed down or up. It just all depends on the accessories and types of shirts you pair it with. Even a lacey shirt can go dressed up or down.
What do you guys think of this look?