What better way to stay warm then a classic turtle neck dress? Some stars like Cameron Diaz, Khloe Kardashian, and Victoria Justice have been seen out and about in their turtle neck dresses.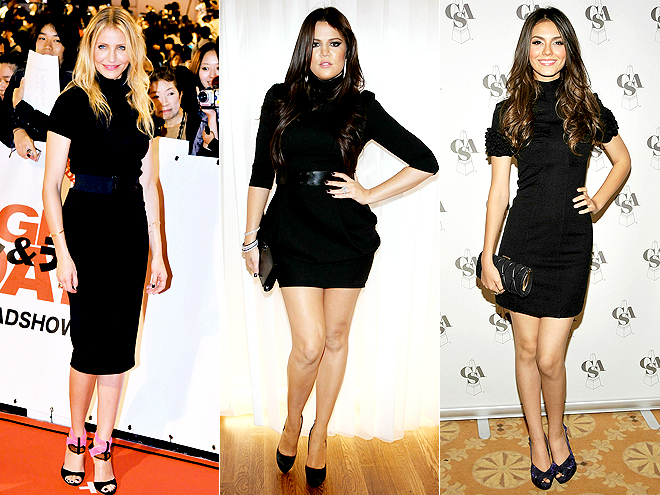 Turtle neck dresses are perfect to take from day to night. Staple turtle neck dresses, like the simple black turtle neck dresses, can be over accessorized with jewlery, tights, and scarves. The great thing about the black turtle neck dress is that you can mix it up with bolder pieces like a bright colored stocking or belt or bag! Possiblities are endless!
Try a turtle neck dress that has a bit of detail in it like pockets, pleats, or buttons. The Forever21 dress (2nd on the left $20) has a nice little detail with the two big pockets on the sides. Even try a turtle neck dress in a different basic color like the Topshop
High Neck Tunic by Wal G
(3rd to the left $56). This dress not only stands out because of it's color but also because it has a military style look to it. The High Neck Tunic has a lot of details to it: the two buttons on the collar, puffy sleeves, and ribbed top. Try to play up a look to a dress. This dress is military inspired so why not try a military style bootie or even a oxford style bootie like the Forever21 shoes (3rd from the left $27).
For a more dressy look try a high neck chiffon dress or silk dress. The French Connection Silk High Neck Shift Dress (last on the right $159) is perfect for day time and for night time fun. This dress can be glammed up with fun and bright accessories like the Charlotte Russe
Suede Peep Toe Multi Platflorm Platform Heel
(last on the right $33). This dress is also great for the Holiday season. Nothing beats a little black dress (expect for maybe a little black sequin dress).
With all these dresses try paring them up with fun and funky accessories. Try knee high socks and oxford booties like the 3rd look from the left. You can even try to stay warm buy adding a scarf. Don't be afraid to accessories basic black pieces just make sure your color combos pair up together. You don't want to clash.
I have a American Apparel turtle neck dress that I bought a couple of years back and always pull it out during the winter. This season I'm really playing up with different colors and patterns instead of just sticking with the usual dark colors. No one said that winter had to be all about dark colors!
What do you guys think about this look?