This summer is all about the nails: from metallic, to white, to neon colors. Who knew that there could be so many trends in the nail polish world?! These trends are perfect for the women who aren't bold enough to try out certain trends like the neon trend or color blocking in their clothing. Some of these trends can be a bit intimidating especially when putting together your outfit, but nail polish is an easy way to feel bold and go a little risky without having to dive right in. It gives a little kick to a look, and who doesn't want their nails to look good?

This season is all about the two-tone nails, and I'm not talking about the ombre nail. What I'm talking about is painting your nails all one color except one nail on each hand that has a print or different color to it. Vanessa Hudgens was seen rocking her two-tone nail polish with a dark blue and one glitter nail.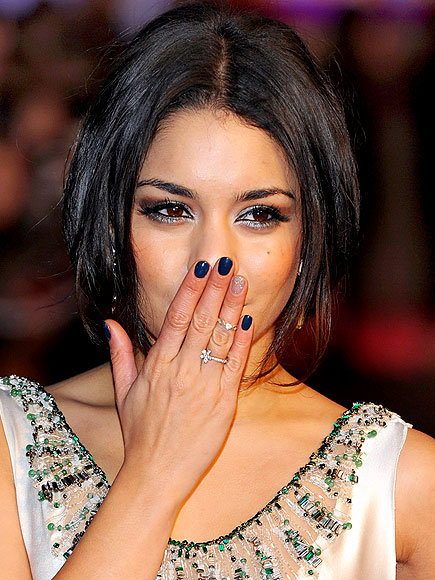 This style is so easy to do yourself! Even I had to try it out!
What you'll need:
nails by poetofsorts on Polyvore.com
Deborah Lippmann Nail Polish, $16
Buy Sally Hansen Insta-Dri Fast Dry Nail Color, Snappy Sprinkles..., $4.59
essie nail care no chips ahead chip free top coat, $8

-Darker nail polish (a dark blue or a dark purple)
-Glitter nail polish (I used the Sally Hansen glitter nail salon effects)
-Top coat (prefer Essie No Chips Ahead Topcoat)

**If you do the Sally Hansen Salon Effects start with that first. Place those on your ring finger then you can start painting the rest of your nails. Don't forget to use the topcoat on your nails, execpt for the Sally Hansen Nail Effects.

**If your painting all your nails you can do what ever order you like. You can paint all your nails first (minus the ring finger) and go back to paint your ring fingers. Once you have everything painted go back and use a topcoat over them.

Outcome:
I used
OPI Siberian Nights
, it's a darker purple but almost looks black indoors or from far away. Since I had only two of these
Sally Hansen Salon Effects
strips left I decided to use them for this look.
What do you guys think? Would you try this trend?