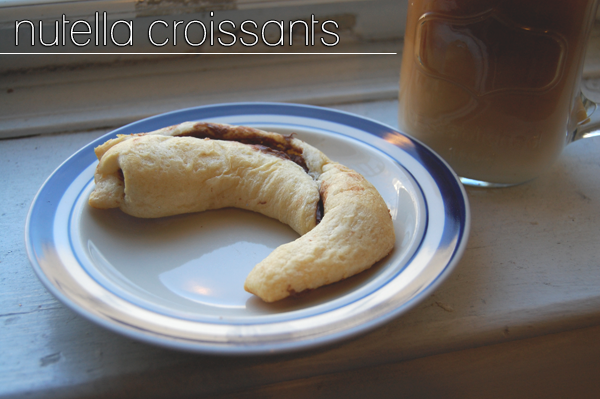 When you have extra Nutella laying around your apartment what are you to do with it? Make Nutella Croissants of course! We never have Nutella in the house, but since I had about half a jar left from after making the
Nutella Fudge Brownies
I figured it was time to think of something else to make with it. That's when I thought of this quick and easy treat. All you need is Pillsbury Crescent Rolls and Nutella...Sunday brunch at it's finest!
Ingredients:
- Nutella
- Pillsbury Crescent Original Rolls
Step 1. Preheat oven at 350 degrees
Step 2. Open crescent roll package and unroll the dough onto a baking sheet. Make sure tear along perforated lines.
Step 3. Take about a tablespoon* of Nutella and spread evenly out on your dough. Do this to each of your rolls.
Step 4. Roll croissants. Don't worry to much on looks either way they'll taste delicious!
Step 5. Bake in the oven for 10 minutes or until lightly golden brown.
Step 6. Let the croissants cool down on the baking sheet.
Step 7. Once cool, plate and enjoy!!
*you can use whatever amount of Nutella you like. My fiance and I can't help ourselves when it comes to Nutella (I mean who can?!).
So I'm not the best croissant roller ever but whateves they came out delicious! And this was the perfect little welcome home for my fiance who was out of town for business. This is a easy and fun baked treat to make with your kids on a weekend morning. Add cinnamon or even powdered sugar for a decadent treat.
What do you think of these yummy morning treats?