Bright colors are everywhere for the spring and so is the colorblocking trend. Whether it's simple colorblocking, dress and shoes, or full on color blocking it's poping up down the red carpet. Emma Robert was seen at her screening of her movie,
The Art of Getting By,
sporting her bright colors.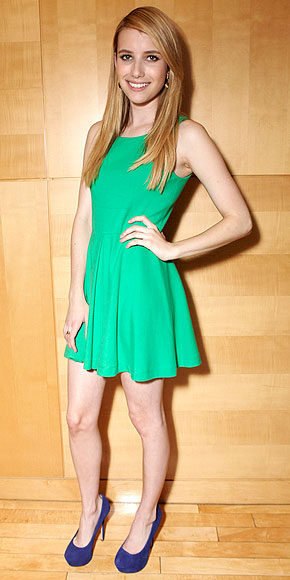 Her look is effortlessly chic, simple green dress, blue shoes, and simple earrings. This is the perfect summer look since it's not over done with jewelery or accessories. Who wants to be bothered by all that stuff while out in the heat? So beat the heat and colorize an effortlessly chic look for less.
Zara dress
, $60
Dorothy Perkins one shoulder evening dress
, 24 GBP
TopShop ruched dress
, $95
ALDO patent leather pumps
, $60
ALDO high heel pumps
, $70
Zara high heel shoes
, $100
ALDO slip on shoes
, $30
Kimchi Blue flower bag
, $38
ASOS leather body bag
, $65
TopShop lucite handbag
, $90
The easy part is starting with the dress. Stores like Zara are rocking the brightly colored dresses this spring/summer season. They are the go to place to pick up a brightly colored frock. Another favorite place to look up dresses is Dorothy Perkins. For those us who don't live in the UK no worries they ship internationally. Pick a bright stand out color like green, coral, pink, yellow, and orange. If your scared of diving right into the brights go with a darker green color like the Zara dress (first on the left...$60) or do a light shade like the one shoulder Dorothy Perkins dress (middle dress...$35 USD).
Wearing pairing the shoes do colors in the same family, orange -- yellows and pinks, green -- blues. If you are doing an almost pastel color dress do a bright shade like the red peep pump from Aldo (middle shoe...$70). Feeling daring? Do a colorblock shoe like the Zara Neon Canvas Platform Sandal (last on the right...$100). These shoes are funky and fun. They also spicy up any outfit. If your looking to dress down a look do a boat shoe. Stick with canvas shoes like the Aldo PADILLA shoe (bottom left...$30). They keep a look casual and stick chic. Plus, slip on shoes are perfect to take with you on vacation.
You don't want to overload your outfit with colors so keep your bag simple. Do nudes or neutral colors like the ASOS Leather Clean Lock Across Body Bag (middle bag...$65) or the Topshop Cream Lucite Marble Box Bag (first on the left....$90). This will help break up the colors and not overload your look. If you want to wear a colored bag try a printed bag. Do a bag that has bright color prints but a darker background, like the Urban Outfitters Kimchi Blue Floral Box Purse (last on the right...$38), this will help break up the colors. Also, try to match the color of the prints to your shoes or dress. You want to stay in the same family coloring since you don't want to go to crazy with the colors.
This season is all about having fun and what more fun is playing with colors? If your really daring match up your brightly colored frocks with coral lipstick!
What do you guys think of Emma Roberts look?