Every one's a favorite fashionista Alexa Chung was looking cozy in a knit sweater and leather shorts at the London Film Festival's Premier of
Submarine.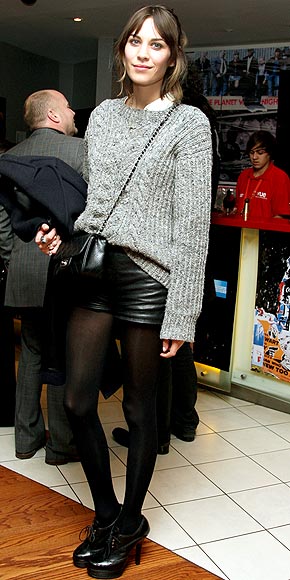 Photo from people.com
Chung's look is the perfect day outfit for the fall. It is cozy, comfortable, and chic. There's really nothing better then wearing a knit sweater and watching a movie. What makes this look chic is the leather short, the high heel booties, and the chain purse. You can get Alex Chung's chic cozy look for less.

Cable Knit sweaters are the fall essential. They are warm enough for those fall days to go with out a jacket but they are also perfect to wear under a jacket. To get the cozy feel try a over sized knit like the Topshop Cable Boyfriend Jumper (second from the left). These cable knits are more lose then form fitting. If you want a tighter more form fitting knit try the American Eagle Cable Knit Long Sweater (last on the right). You can also had a funkier look by going with a sweater that has a little details to it. The Urban Outfitters Staring at the Stars Cable Knit Sweater (first to the left) is less chunky then the Topshop and Urban Outfitter sweaters. The UO sweater also has a little detail with the three gold buttons on the shoulder line.
Leather shorts are popping up every where. They are now the new fall essential because they are warm and can be worn with different tights or knee high socks. Leather shorts are harder to wear during the summer since well leather in the sun isn't very comfortable. You can also go with different types of leather shorts: low waist, high waist, tight, or lose. It really depends on what your body frame is and how you prefer to wear your clothes. If you are into loser feeling try the ASOS High Waist Brown Belted Leather Shorts (last on the right). These shorts have a comfortable laid back look to them while the Nasty Gal Riptide Leather Shorts (first on the left) is shorter and tighter. The Nasty Gal shorts have a very motorcycle bad ass chick feel to them. This can be played up or even played down. By adding a girlier sweater to these shorts like the UO sweater it gives it a more feminine side to it.
To really pull the whole look together don't forget the booties and black chain purse. It had a little spunk to this look throw on some red lipstick too.
What do you think of her look?