Blake Lively style icon for many and heart stopper for many others. Lively has fantastic style on screen and off screen. She was recently seen at the Vertu Smartphone launch party in N.Y.C. with a pink ruffled Dior dress, motorcycle jacket, and ankle booties. Looking stunning as always.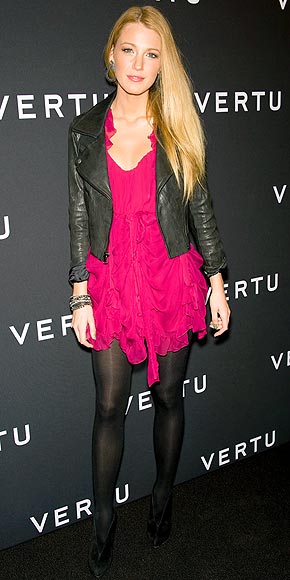 photo from
people.com
This look is the perfect cross of girly and edgy. Motorcycle jackets add the perfect hard edge to a girly look. Lively also brightness up this outfit with a pink ruffle Dior dress which gives this look a little pizazz. It's nice to see a pop of color in a sea of black because sometimes a lot of one color can give a washed out type of look. She finishes her look with ankle booties and hardware accessories which gives the look a polished finish. The very luck ones can afford Dior but for the rest of us we can steal Lively's look for less.


Stores such as Forver21 are now sealing faux leather jackets that can run you anywhere from as low as $20 to as high as $60. The real deal jackets can run much higher depending on the brand/designer.

When pairing your motor jacket with a dress there is no rules but if you want the outfit to pop stick with bright colors like reds or pinks. To make a bigger statement pick a dress that has details like ruffles or a bow. The H&M pink ruffle dress (first to the left) is perfect match for a motor jacket because it's light weight and it has a flow to it. The pink is more of a blush color and isn't as bright as Nasty Girl Fuchsia Wrap Dress (last dress on the right) but the H&M dress has the feminine touches that can be matched with a harder look. I also chose the Forever21 red bow dress (the second to the left) because it had the bright vibrant color that would stand out plus it had a good detail with the bow. Forever21 also helped show that you can give this dress more of an attitude by them accessorizing their model with harder accessories like fishnet gloves and bangles.

Booties help polish the look because they are still femine with a harder tone to it. Stick with booties that have a heel to it because it gives the look the a soft look and a lift. Try a bootie that has a cuff cut around the ankle, it gives the bootie it's own statement and look. It also can reflect the leather jacket flaps. The Aldo Hilvosky Bootie (first to the left) is my favorite because it has a tailored look on the ankle and has a little dip to it. Sometimes smaller details are great when you are wearing a dress that has a lot of things going on. Also ASOS Report Annona Cuffed Heeled Ankle Boot (last one to the right) really stands out because it has a dramatic cuff. This bootie will help polish this look and make it stand out. This shoe is perfect for dresses that don't have a to much detail like the Nasty Girl Fushia Pink dress. This dress stands out because of the color and has a great cut at the hem line, it reminds me of a tulip.

Don't forget to accessorize. Try bangle bracelets and bigger cuff bracelets like Tasha Multi Row Crystal Bracelet (first set of bracelets on the left) and the Cara Accessories Wide Studded Leather Bracelet (second bracelet to the left).

This look is great for a night out on the town. It's dressy enough to go out for drinks and dancing but it's also tone down enough where you won't look like you are going to a wedding or a fancy occasion. I love motor jackets because they are perfect for the Fall. They are heavy enough to keep you warm but aren't to heavy for the Fall temperatures. They also go with pretty much anything that you might have already in your closet. The good thing about this look too is that many of us have dresses sitting in our closets that we don't wear and don't ever know how to not make them look overly dressy. This is a good way to change up a dress that you have sitting in your closet.
What do you think of Blake Lively's look?