Spring means floral print dresses, shirts, skirts, leggings, etc. Fall prints are? ANIMAL PRINTS. One fall essential you will need is leopard print. Kristin Cavallari, Chloë Sevigny, and Jennifer Lopez were seen rocking their animal print dresses.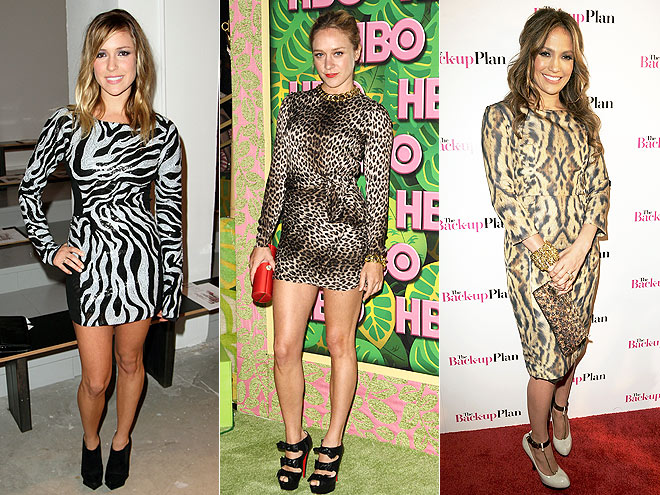 Animal print dresses are perfect for night time looks. They are also great for dresser events. You can really make a statement with an animal print dress. Don't tame your wild side! But you can tame your wallet. Here are some great looks for less.
Pieces Twist Lock Party Bag: $24 -
asos.com

You can really play with leopard print dresses and dress them up or down. You can pretty much wear them whatever you want to. I love the Topshop leopard print dress (second to the left $55) because you can play up the hard edges. The zipper of the dress gives it an edgy feeling. Play up the zipper by pairing it up with combat boots like the ones from Forever21($29.80). Pair it with a fun purse that also makes a statement like fur or a chain or BOTH like the Zara mini shoulder bag with fur ($29.99). This look is great for a night out look and for a fun day look.
For a dresser look try a leopard print dress that has chiffon material or lighter material like the ASOS Cat Leopard Print Dress ($81) and H&M Leopard Print Chiffon Dress ($41). You can do a simple black pump like the Topshop black pump ($54) or for a different take on pumps you can try a mary jane type of shoe like the Topshop Square Toe Mary Janes ($125). Pair it with a simple little clutch and your ready to hit the party. These outfits are great for fall weddings.
If you want a sexy look try a long sleeve dress that is tighter and will give you a nice silhouette . Debenhams leopard print dress by Oasis ($76) is a great take on Chloë Sevigny long sleeve leopard print dress. Try a wedge shoe the the Jefferey Campbell Suede Platform Wedge Heel ($128 - urbanoutfitters.com). The wedge will give you a sexy look, and I find wedges easier to walk in and more comfortable (especially for those who hate heels wedges are perfect). Pair it with a bag that can be worn as a shoulder strap or that you can carry that has a handle like the Forever21 Twist Front Shoulder bag ($23.80). If you really are daring or want to give this outfit even a more sexier look try pairing it with a fur vest which you can find at stores like Zara. This look without a doubt is the perfect night time look. It's ideal for drinks with friends or a boy and then going out dancing.
Leopard print is a must have for this fall. This look is really all about having fun so make sure to have fun with this look. Try dressing your dress up all different ways!
What do you guys think of animal print dresses?