Actress Dianna Argon was spotted in an asymmetrical hemline dress at the Glee in 3D movie priemere. And we know how I love the asymmetrical look!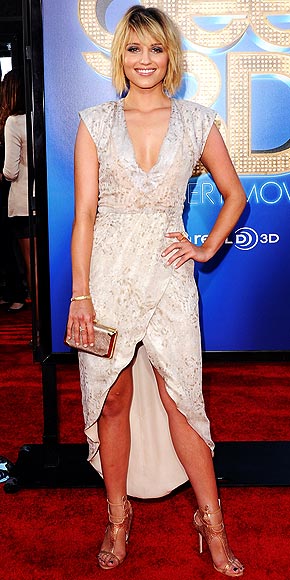 picture from people.com
Asymmetrical hemlines add a flare to any dress and can go from casual to super dressy. This hemline bares enough leg but keeps things flirty. If you want a dress that goes easily from casual to dressy pick a solid color dress in a jersey or light weight material. Topshop's Blue One Shoulder Trail Hem Dress ($100) is perfect to take from day to night since it has a shorter front it exposes enough leg but the asymmetrical cut in the bag keeps it feminine. Also the one strap shoulder gives it a hint of sexiness.


TopShop evening maxi dress, $100
Zara leather pumps, $30
Pied a Terre flat shoes, £60
Monsoon woven handbag, £28
Floral bag, $90
Forever21 antique bracelet, $6.80
ASOS face watch, $52
Juicy Couture rock earrings, $52
Forever21 flower jewelry, $6.80
Forever21 beading ring, $5.80
ASOS resin jewelry, $17
Zara metal belt, $26
Dorothy Perkins red belt, £5
To take this look from day to night it all depends on the accessories you use!
NIGHT LOOK:
For a night time look use darker accessories with hints of glam and sparkle to it. For belts do a rope belt like the Zara chain belt ($26). The gold accent in the belt gives it a dress up look compared to just being another rope belt. You can also play with the assymetrical look by doing a asymmetrical design shoe like the Zara Asymmertical Court Shoe ($30). Avoid necklaces on on shoulder dresses since adding a necklace will look weird with the cut of the dress. In absence of a necklace do chunky bangles. If you do a clutch you MUST do a bold statement ring like the Asos Statement Square Marbled Resin Cocktail Ring ($17). You can top your whole look of with a red bold lipstick!
DAY LOOK:
Color block by doing a colorful belt and a fun printed bag. For other accesorries stick with neutral tones. You want the dress and the belt to stand out.
NIGHT LOOK:
Side hem asymmetrical dresses are another fun flirty hem line. Depending on the type of dress these can be worn day and night as well. These hem lines (depending how short) can be a bit risque, so save them for a day NOT in the office.
Kimchi Blue embroidered dress
, $69
Dorothy Perkins cotton dress
, £39
H&M leather oxford shoes
, £25
Charlotte Russe bow pumps
, $38
Coral handbag
, $40
Dorothy Perkins buckle bag
, £15
Forever21 bangles jewelry
, $6.80
Metal stud earrings
, $17
Floral earrings
, $13
Heart jewelry
, £10
Bow hat
, $38
Monsoon metal belt
, £8
NIGHT LOOK:
For a night look go for a BOLD color dress. The Dorthy Perkins Orange Kimono Dress ($64) is perfect for a night out on the town with the girls or a cocktail/dinner date. The cut on the skirt is sexy but still gives you enough coverage. Also it gives a little sneak peek of your legs. When doing a bright colored dress do pair it up with nude or blush tone accessories. You don't want to look over the top with a lot of color. To give it a night life look add hints of glitter like the Charlotte Russe Take a Bow Glitter Pump ($38) and Forever21 Glittered Bangle Set ($6.80).
DAY LOOK:
Take a neutral colored asymmetrical dress out for a walk in the park or to do some shopping. The Urban Outfitters Kimchi Blue Halflight Dress ($69) is a casual dress but the added design detail in the bust area and the sweetheart neckline gives it a feminity. To keep the who look casual and cool do oxford shoes like the H&M ($41) and a sweet bow belt like Monsoon Layer Bow Waist Belt ($13). Keep your jewlery simple! And why not top it all off with a hat! And why not make it a asymmetrical hat like the Nordstrom Asymmetrical Cloche Heather Natural One Size ($38).

What do you think of the asymmetrical hem line?